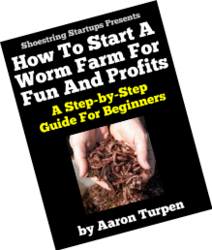 (PRWEB) April 21, 2012
A new course from startup business course company Shoestring Publishing focuses on the niche of how to start a worm farm. "Starting a worm farm may not be on everyone's mind, but it is a real business opportunity that can make thousands of dollars a month," says Justin Douglas of Shoestring Publishing. "Anyone can start a worm farm in their own yard this weekend and have a real job and their own business. Fishing worms come from worm farms, and the worm farms are owned by startup owners who operate them as a business just like any other business. Our teachers consulted everyone that we knew who was a success at starting a worm farming business, read everything available on the subject of worm farms and then added their own personal experiences to develop this system."
Mr. Douglas explains that the course will save an entrepreneur time and also mistakes: "the teachers of the course are real startup entrepreneurs who have earned literally hundreds of millions of dollars. It is much better to learn from the pros and learn the details of the exact business before you start. By going through this course it is possible for the average person to start a worm farm business by this weekend. We also have included information on accounting, marketing, legal issues and other topics crucial to starting a successful startup business. We cover how to build a worm farm, worm farm plans, worm farming guide and worm farm supplies. It's all there. Don't let the size (Just 21 Pages) fool you. Over 200 hours of research went into this project."
In addition to the worm farming startup course "How To Start A Worm Farm," the bonuses include an audio series called "Startup Boot Camp" taught by Perry Belcher who has sold over 100 million dollars of his own products. Other bonuses include the classic business book "Think And Grow Rich" by Napolean Hill.
For more information or to purchase the course, visit the website for "How To Start A Worm Farm."
About Shoestring Publishing
ShoestringStartups.com is the premier online publisher of "extra income opportunities" that anyone can use to earn additional income. Unlike 99% of the so-called "opportunities" that promise to make millions overnight, the Shoestring Publishing mission is to show legitimate methods to earn a little extra income in a short period of time. Shoestring Publishing brings the very best in business startup courses to the public. They don't promise to make their students millionaires, but they do promise to show REAL strategies for earning extra cash that don't involve any special skills or a massive learning curve. All students need is an internet connection, an open mind and a willingness to learn.