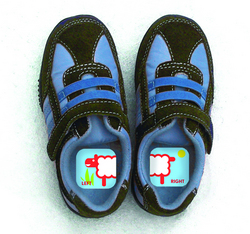 Educational shoe stickers that help kids learn to differentiate left from right, and put their shoes on the right feet, all by themselves! No reading required. Great for toddlers.
Baltimore, MD (PRWEB) October 27, 2010
When graphic and website designer Ellen Lichtman's daughter was three years old, she provided her mom with an "Aha!" moment that would, four years later, become a unique product that most parents will wonder how they ever lived without. Shoezooz (http://www.shoezooz.com) Educational Shoe Stickers are a fun, easy way for children to differentiate their left shoe from their right so they can put their shoes on correctly, by themselves. Lichtman is launching her product into the local Baltimore retail market at aMuse Toy Stores located in Fell's Point (1623 Thames St.) and Quarry Lake (2576 Quarry Lake Dr.).
The idea for Shoezooz (http://www.shoezooz.com) Educational Shoe Stickers came to Lichtman when her then three-year-old daughter appeared with her shoes on the wrong feet, yet again. Lichtman was immediately inspired with an idea to create a sticker that would adhere to the inside heels of kid's shoes, with an image split in half that could only be put back together when the shoes were placed correctly. "It's a simple idea and a simple product, but it still took several years of development to make it a reality," says Lichtman. However, as she developed Shoezooz, Lichtman also noticed that the product was accomplishing more than she had originally intended. "They not only saved time for parents and helped kids feel more self-confident and self- sufficient but also became great tools for occupational therapists and are ideal for kids with visual learning styles, including those on the autism spectrum."
A package of Shoezooz includes three sets of durable, vinyl, moisture-proof stickers that adhere to the inside heel of the left and right shoes. Printed on the pairs of stickers is an adorable, colorful image of a friendly animal split in half (the head and front of the body on the left sticker and the tail and back of the body on the right sticker). By simply matching up the animal halves, shoes are put on the correct feet. The simple and engaging illustrations are fun and attractive to both children and adults, and best of all, no reading is required which makes Shoezooz perfect for toddlers.
Until now, Shoezooz were only available for purchase online. But when Claudia Towles, another Baltimore mom and owner of aMuse Toy Stores saw the product, she wanted to help Lichtman with her local retail launch. "aMuse is so excited to now be carrying Shoezooz," says Towles. "As a family-owned store, we absolutely love when we are able to work with a local, independent entrepreneur." Shoezooz are available now at both aMuse locations for a very affordable $5.99 per pack -- great for stocking stuffers and holiday gifts.
ABOUT SHOEZOOZ
Shoezooz were created by Ellen Lichtman, a Baltimore-based graphic and web designer. Her firm, Six Ink (http://www.sixink.com) is an award-winning, full-service design firm specializing in unique, functional websites and graphic design of all kinds. Six Ink is a small, 100% woman-owned business. Shoezooz is their first product.
For more information about Shoezooz, or to purchase online, please visit http://www.shoezooz.com. To learn more about aMuse Toy Store, please visit http://www.amusetoys.com.
CONTACT INFO
Ellen Lichtman
410-338-1666
ellen(at)shoezooz(dot)com
Kirsten Mackin
410-818-7295
kirsten(at)shoezooz(dot)com
###