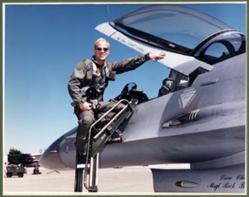 Many individuals, who would have been rejected as pilots due to poor vision, can now serve in the military after having LASIK or PRK surgery.
Nashville, TN (PRWEB) March 28, 2012
The military has embraced LASIK and PRK refractive surgery and the ability to function without glasses or contacts, especially for pilots, Special Forces, Navy "Seals" and others entering into dangerous environment. Indeed, glasses and contacts are not very functional and can even be dangerous in a combat situation. Great vision is also needed to work on complex military equipment such as planes, satellites, and computers. According to Dr. Stewart Shofner of Shofner Vision Center, "many individuals, who previously would have been rejected as pilots or for other specialized duties due to poor vision, can now serve in the military after having LASIK or PRK surgery." Dr. Shofner identifies the top reasons why Shofner Vision Center has seen an increasing amount of military patients for LASIK/PRK vision correction surgery.
1) Safety. LASIK is one of the safest medical procedures and is actually safer than wearing contacts (especially overnight), because contacts can cause eye infections.
2) Environment. Military personnel find that long hours in harsh climates with dirt, dust, sweat, etc. make contact lenses and glasses inappropriate and even dangerous.
3) Recruitment. LASIK and PRK surgery assists in the recruitment of armed forces personnel. A common reason for turning away otherwise suitable recruits for some military specialties is poor vision. LASIK and PRK enable the military to draw from a larger recruiting pool and overcome manpower shortages.
4) Physically Fit. Military personnel should be physically fit, and this includes good vision. Great eye-sight is of paramount importance in a combat situation.
5) Recovery Time. Did you know that US Navy pilots are permitted to land aircraft carrier in some cases after just 1 week of having LASIK surgery? Recovery is quick!
Payment for LASIK and PRK Surgery
Most branches of the military will even pay for LASIK or PRK prior to sending their warriors into harms way. Each branch of the military now has its own policy for Vision Correction Surgery using both LASIK and/or PRK.
About Shofner Vision Center
Dr. Shofner's father was a highly decorated Marine General who participated in more combat than any Marine officer in WWII. He also led the one of the few successful escape from a Japanese prisoner of war camp. Dr. Kevin Johnson is active in the US Air Force Reserves. He is a graduate of the U.S. Air Force F-16 "Top Eye" program, and participated in the Air Force evaluation of PRK/LASIK for Air Force Academy Cadets and Pilots. Both Dr. Shofner and Dr. Johnson are extremely committed to giving back to our Servicemen and Servicewomen and their families who sacrifice so much for our country.
Services for Military
Shofner Vision Center offers special LASIK programs for Wounded Warriors providing free LASIK for any Serviceman or Servicewoman who has trouble with glasses or contacts because of a lost limb while in combat. Dr. Shofner also offers very affordable vision correction surgery prices for Veterans, Reservists, and Active Duty Serviceman and Servicewomen and their dependents.