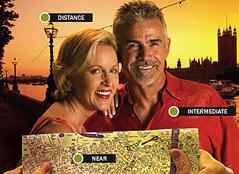 Cataract surgery is one of the safest procedures in the U.S.
Nashville, TN (PRWEB) July 30, 2012
Eye disorders and diseases are common in older adults. In fact, cataracts are one of the leading eye problems in adult Americans age 40 and older, and continue to rise. According to the 2012 update of the "Vision Problems in the U.S.", a report distributed by Prevent Blindness America and the National Eye Institute, the number of those aged 40 and older with vision impairment and blindness has increased an alarming 23 percent since 2000. The report also claimed that over 24 million people age 40 and older have cataracts in the U.S. Dr. Stewart Shofner of Shofner Vision Center explains many causes of cataracts and new procedures that provides patients with immediate vision improvement.
About Cataracts
A cataract is a clouding of the normally clear lens of the eye. It can be compared to a window that is frosted or yellowed. How quickly the cataract develops varies among individuals and may even be different between the two eyes. Most age-related cataracts progress gradually over a period of years. Other cataracts, especially in younger people and people with diabetes, may progress rapidly over a short time. It is not possible to predict exactly how fast cataracts will develop in any given person. Other than age, genetics, diabetes, radiation, exposure to the sun, and medication may also cause cataracts.
Cataract Symptoms
Dr. Shofner recommends a comprehensive eye exam for anyone experiencing the following symptoms; difficulty seeing up close, difficulty reading, colors seem yellowish, sensitivity to light such as halo or glare, difficulty seeing at night, double vision in one eye, or blurred vision. Cataract surgery is the only way a cataract can be removed. Dr. Shofner advises his patients that "cataract surgery is one of the safest and most commonly performed procedures in the United States."
New Cataract Procedures
Cataract surgery is very safe. An eye surgeon like Dr. Shofner uses a microscope to look at the eye. A small cut is made in the eye and the lens is removed. Depending upon the type of cataract, removal may use special tools and suction, phacoemulsification or ultrasonic energy/sound waves. A man-made lens, called an artificial intraocular lens (IOL), is usually placed into the eye next. Typically covered by insurance, cataract surgery allows immediate vision improvement. Indeed, patients can enjoy life in many cases without glasses by using Intraocular lenses like Crystalens, Restor, and Tecnis. Although some surgeons have invested in expensive technology such as "Bladeless Cataract" surgery, Dr. Shofner states, "recent studies have not proven any additional benefits to patients who opt for costly "bladeless" or 3D cataract procedures."
About Shofner Vision Center
Dr. Stewart Shofner at Shofner Vision Center located in Nashville, TN specializes in Lasik and Cataract Vision Correction Surgery. Dr. Shofner has performed over 10,000 cataract surgeries in Nashville/Middle Tennessee area. Dr. Shofner recommends anyone experiencing early cataract symptoms or vision impairment should contact their local ophthalmologist or contact Shofner Vision Center for a "No Fear - No Pressure" exam to determine if cataract vision correction surgery is appropriate for vision improvement.