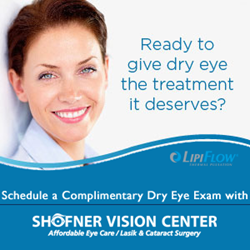 We are very pleased to introduce the new LipiFlow treatment to help those patients who are very frustrated with this chronic disease.
Nashville, TN (PRWEB) August 28, 2013
Shofner Vision Center announces that it is one of the first three practices in Middle Tennessee to introduce a new treatment for patients who suffer from Evaporative Dry Eye disease. Dry Eye Syndrome has reached epidemic portions due to heavy computer use and poor air quality. This disease stems from a deficiency in the oily lipid layer of the eye's natural tear film. The oily lipids serve as a protective layer so that the aqueous (water) layer of the eye's tear film does not evaporate. Shofner Vision Center has introduced a new, advanced in-office treatment, called LipiFlow®, which treats patients with blocked meibomian glands by unblocking the glands and allowing them to resume the secretion of oily lipids needed for a healthy tear film.
About Dry Eye Disease
Dry eye disease affects more than 100 million people worldwide. Of those, 65 percent suffer from Evaporative Dry Eye. Common symptoms of dry eye include dryness, grittiness, soreness, irritation, burning and eye fatigue. These symptoms can hinder people's daily activities such as reading, using the computer, wearing contact lenses and being outdoors on windy days. These symptoms generally worsen throughout the day. "Dry eye disease is one of the most common topics patients discuss when visiting eye care professionals," said Dr. Stewart Shofner of Shofner Vision Center. "We are very pleased to introduce the new LipiFlow treatment to help those patients who are very frustrated with this chronic disease that is a major hindrance to good vision. LipiFlow helps the meibomian glands resume their natural function and our patients are reporting great results."
Dry Eye Treatment
Historically, common therapies aimed at dry eye symptom relief included using warm compresses, over- the-counter wetting drops and ointments, and prescription drugs. Alternatively, the new LipiFlow treatment addresses the root cause of evaporative dry eye by unblocking the meibomian glands that secrete oily lipids. In controlled clinical studies of patients who received a single LipiFlow treatment, the average meibomian gland score at 4 weeks increased by two to three times over the baseline condition, which reflects improvement in the number of glands secreting and secretion quality. Dr. Shofner adds "the procedure is NOT painful, it's rather a thermal pulsed cleansing massage based on rigorous FDA trials." Additionally, at four weeks after the LipiFlow treatment, 79% of patients reported significant improvement in dry eye symptoms.
About Shofner Vision Center
Shofner Vision Center provides comprehensive vision care services including LASIK/PRK vision correction, cataract surgery and evaporative dry eye treatment. Additionally, Renowned Eye Surgeon Dr. Shofner provides diagnosis and treatment for other vision issues. Dr. Shofner has outstanding credentials to deliver the best care and surgical outcomes for patients. Shofner Vision Center utilizes the most advanced, proven technology to deliver the best solutions safely and reliably. For a limited time, Shofner Vision Center is offering a Complimentary Dry Eye Evaluation. Patients can schedule online or call 615-340-4733. For more information, visit http://www.shofnervisioncenter.com.