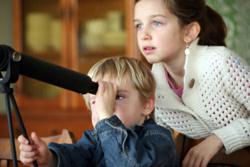 Most vision problems can be avoided and permanent eye damage including, blindness prevented.
Nashville, Tennesee (PRWEB) May 30, 2012
One child becomes blind every minute. This amounts to approximately one half million kids becoming blind every year. Half of these children die within the first or second year of becoming blind (according to a WHO Report). Childhood blindness can be caused by vitamin A deficiency, measles, conjunctivitis in the newborn, congenital cataract, and retinopathy of prematurity (ROP), caused by premature birth. Other causes of childhood blindness include external eye infections, harmful traditional eye medicines and eye injuries, amblyopia, and lack of eye health.
Today's parents have more to worry about than ever before. Due to hectic lifestyles with many parents working full time and juggling schedules to accommodate children's activities and events, it's easy to miss the signs and symptoms a child is going blind. Sometimes, there aren't any symptoms and kids do not even know that their vision is deteriorating. Although it is common for kids to stumble, trip, run into a wall, or have difficulty seeing at night, all these signs could be clues to poor vision. "There are measures parents can take to prevent vision problems", says Dr. Stewart Shofner who shares 5 tips to prevent your child from going blind.
1) Eye Health. It is never too soon to take your child for an eye examination, says Dr. Shofner. Vision care professionals can examine children's eyes even if they are unable to read letters. Schedule your child's first eye exam by the time they reach three years of age, especially if there is family history of vision impairment. Dr. Shofner also recommends that just like adults, kids should wear sunglasses that protect against harmful UV rays when outdoors. Being proactive can save your child's sight.
2) Amblyopia is Serious. More commonly known as "Lazy Eye," amblyopia is generally symptomatic with an image of a wandering or crossing eye. Sometimes there is no outwardly visible sign. If left untreated amblyopia, will result in blindness. Vision loss due to amblyopia can be halted and reversed if diagnosed early enough. A reputable ophthalmologist that specializes in treating amblyopia and other eye diseases can correct this problem. Depending on the case, vision therapy and surgery to correct muscle imbalance may be recommended. Symptoms include: one eye turns or "floats" (Strabismic Amblyopia), wandering eye, or crossing eye. Stumbling, tripping, poor depth perception, sensitive to darkness/lightness, tipping of the head while looking cross eyed are also related symptoms.
3) Conjunctivitis is Common. More commonly known as "Pink Eye," conjunctivitis is an inflammation of the conjunctiva, the clear mucous membrane that covers the white part of the eyeball and the inside of the eyelid. It is the most common eye infection in the United States. Cases may vary from a mild redness with watery eyes to serious infections where vision is impaired or even lost. Symptoms include: red/irritated eyes, eyelashes stuck together from overnight mucus, gritty feeling, sensitive to light, and swollen eyelids. A culture must be taken to examine the type of conjunctivitis and determine appropriate treatment. The best effective prevention is hygiene and not rubbing the eyes by infected hands. Another reason why children should wash their hands.
4) Dangerous Toys. According to Prevent Blindness America, most eye injuries in children age 14 and younger are caused by: guns (air, BB & spring), toy weapons, slingshots and sling propelled toys, fireworks, playground equipment, bicycles, art supplies, crayons, chalk, trampolines, scooters, skateboards, powered riding toys, go-carts, and toy sports equipment. If your child enjoys these toys, parents should teach them how to use them safely and monitor them closely.
5) Hazardous Products. In addition to toys, there are many common products that can cause serious eye injuries, including blindness. Products include: pens, pencils, baseball, softball, water/pool activities, adhesives, general purpose household cleaners, furniture, basketball, flatware, bleaches, cigarettes, lighters, gasoline, desk supplies, and manual hand tools. Ensure these products are kept out of reach or monitor children closely when using these products.
Additional Resources
The US National Library of Medicine and the National Institutes of Health offer additional information and statistics about childhood blindness. These sites also offer a link to Medline Plus to research symptoms, causes, treatment and prevention.
About Shofner Vision Center
Shofner Vision Center, located in the heart of Nashville, Tennessee offers affordable family eye care in a No Fear – No Pressure environment. Shofner Vision Center has by far the most caring, responsible group of professionals you will ever meet. Their staff members pay close attention to details to ensure every patient is given the best experience at Shofner Vision Center. If your child experiences any signs or symptoms of vision impairment or discomfort or if you have general eye health questions, contact Shofner Vision Center at (615) 340-4733, your local ophthalmologist or pediatrician.
###