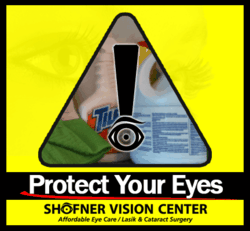 We have treated many patients for accidents where the patient's eyes made contact with a corrosive liquid which caused immediate discomfort and threatened their vision.
Nashville, TN (PRWEB) April 26, 2012
Dr. Stewart Shofner of Shofner Vision Center meets with patients for regular and on occasion emergency visits. "Most recently, we have treated many patients for accidents where the patient's eyes made contact with a corrosive liquid which caused immediate discomfort and threatened their vision," says Dr. Shofner.
During Spring and Summer months, more people become active, tackling projects such as landscaping, spraying pesticides to eliminate insects, and cleaning out the garage not to mention normal everyday chores. Many don't realize how dangerous using common household products such as toilet bowl cleaner, oven cleaner, and pesticides in spray or aerosol containers which can ultimately cause irreversible damage if it makes eye contact. Dr. Shofner shares 5 important tips to keep your family's vision safe during this season and throughout the year.
1) Precautions. Know what products you are using and pay close attention to hazard warnings (Caution, Warning, Danger). Many include corrosive ingredients that are harmful to your skin, eyes, and cause respiratory damage if inhaled.
2) Read Labels. In addition to reading the precautions on product labels, also read "What to do if product contaminates eye". The less time the product is in one's eye, the less chance of irreversible damage. Be sure to follow instructions on proper flushing procedures, if none are listed, a good rule of thumb according to the Mayo Clinic is to flush your eye with clean, lukewarm tap water for at least 20 minutes; contact lens should be carefully removed. One should contact an eye doctor or seek emergency care immediately if burning, irritation, vision changes have occurred. Be sure to bring the product so medical professionals can quickly provide proper treatment.
3) Safety Goggles. Safety goggles should be worn while cleaning with corrosive materials such as Clorox. No one expects to get the product in one's eye, but sometimes product can splatter or splash and make contact with the eye causing irreversible damage.
4) Gloves. In addition to safety goggles, many products should not even make contact with your hands. Keeping your hands and fingers protected and avoid rubbing or touching the eye area until your hands have been properly cleaned.
5) Go Green. Another good reason in addition to saving the planet by using natural, organic cleaners/solutions could also prevent eye damage. Be aware that some products that claim to be "eco-safe" may not be "human-safe". Not sure which ones to use? Consumer Reports has compiled a website that evaluates the meaning of various labels.
Common household cleaning products that causes eye irritant or irreversible damage include but are not limited to: ammonia, bleach, carpet/upholstery shampoos, dishwasher detergents, oven cleaner, drain cleaners, furniture polish, mold/mildew cleaners, antibacterial cleaner, and toilet bowl cleaner. To view full list, The National Institutes of Health and National Library of Medicine compiled this searchable database of safety information on common household products. For more information about specific chemicals, you can search the ToxFAQs database.
About Shofner Vision Center
Shofner Vision Center offers by far the most caring, responsible group of professionals who pay close attention to details to ensure every patient is given the best experience. Anyone that experiences any eye related issue, including eye contact with harmful chemicals, should schedule a comprehensive eye exam to determine if eye damage is present. Shofner Vision Center treats nearly every condition of the eye including LASIK and cataract surgery. Dr. Shofner has been practicing in Tennessee since 1990 and has performed more than 10,000 cataract and ocular surgeries and more than 30,000 LASIK surgeries on Middle Tennessee eyes.
###