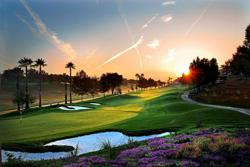 This tournament is focused on the Lucy Curci Cancer Center at Eisenhower which is a world famous facility.
Palm Desert, CA (PRWEB) April 23, 2013
Brad Schmett, Broker Associate with Luxury Homes by Keller Williams and real estate investment expert, has announced that a rare inventory of pristine luxury homes has spurred interest in La Quinta and Palm Desert home buying. The upcoming Shoopy Scramble Golf Tournament is expected to create a substantial boost to an already hot market.
Speaking from his office in La Quinta Schmett observed that, "This tournament is focused on the Lucy Curci Cancer Center at Eisenhower which is a world famous facility. Naturally there are a great many people who will be in attendance so we do expect to be busy. It is great to have the current inventory of luxury homes to offer buyers. This event is such a staple of the charity circuit in this valley and we are so grateful to have such generosity in our midst. A perfect example of mixing business with pleasure, charity golf tourneys are a La Quinta favorite."
The Desert Willow Resort is a perfect location in fashionable and sun kissed Palm Desert. Held on Sunday, the tournament is in support of "Melanoma Monday" at the Eisenhower Lucy Curci Cancer Center of Excellence just next door in Rancho Mirage. The month of May is skin cancer awareness month and in the dry and sunny desert climate it pays to get regular check-ups and be aware of the warning signs of Melanoma.
A BBQ luncheon and an Awards Dinner will round out the festive day. Event Chairman Brett Shoopman is dedicated to helping others detect and prevent skin cancer across the valley. Everyone is encouraged to come out and play a few rounds of golf for a great cause.
For more information on the Shoopy Scramble Charity Golf Tournament visit this website.
To find out more about investing in Palm Desert, CA real estate visit:
http://www.palmdesertrealestateinfo.com
About Luxury Homes by Keller Williams: Luxury Homes by Keller Williams – La Quinta, is an exclusive, elite and sophisticated group of real estate consultants raising the bar for service in the Palm Desert and La Quinta area residential real estate market.