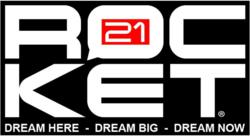 Seeing youth put their hearts and minds into an inspirational song to share with the world, is a wonderful thing," noted country music artist Ansel Brown. "It was energizing to review the inventive songs written by Rocket21 members in this cool contest.
San Francisco, Washington, D.C., and Nashville (PRWEB) April 12, 2012
Youth social network Rocket21, [where kids explore amazing possibilities for their lives and futures], announced that 17 year-old Moranda Rasmussen is the Grand Prize winner in the company's "Dream Here. Dream Big. Shoot for the Stars." songwriting competition.
Rasmussen, a junior at Sheldon High School in Eugene, Oregon, was selected by a panel of judges representing the music industry, NASA, and Rocket21, for her original song, titled "Flying", which encourages kids to dream big and reach for their goals.
"NASA's legacy has been created by extraordinary dreamers and doers – and Rocket21's mission is to provide a new generation of kids with a place to dream, along with access to world-class experts and resources. Introducing Ms. Rasmussen and her song at the Kennedy Space Center event is an incredible first step in celebrating her talent," said Jodell Seagrave, President & COO, Rocket21. "This competition has been a wonderful opportunity for Rocket21 members to showcase their dreams, inspirations, and role models through music and writing."
Ms. Rasmussen will attend the NASA OPTIMUS PRIME Spinoff Contest Awards ceremony to be held April 12th at Kennedy Space Center Visitor Complex in Orlando, Florida. Rasmussen – and her winning song - will be introduced at the event by Country Music Artist Ansel Brown. Brown was selected to perform his original song, "When You Fly," to honor the Space Shuttle Program on multiple occasions in 2011.
"Music is the pathway to the soul. Music is inspiring, intriguing, exciting and exhilarating. Having today's youth actually put their hearts and minds into writing an inspirational song to share with the world, is a wonderful thing", noted country music artist Ansel Brown. "Like the products that NASA has invented throughout its history, songs are invented by creative ideas, thoughts and then words! It was energizing to review the incredibly inventive songs introduced by Rocket21 members in this very cool contest!"
In June, Rasmussen will travel to Nashville for a recording session of "Flying", with Ansel Brown and acclaimed music producer, Cliff Downs. The song will be available on iTunes later this year.
The contest was co-sponsored by West Coast Songwriters. WCS Executive Director Ian Crombie served as a judge for the contest, and also provided feedback to aspiring songwriters throughout the contest as a PRO on Rocket21.
For more on the contest, click here.
About Rocket21
Rocket21 provides unprecedented access to world-class experts and organizations while protecting them with a combination of state-of-the-art, real-time filtering and human moderation, extensive safety and security precautions, and a specialized infrastructure designed to keep kids safe.
To learn more about Rocket21, visit rocket21.com. LIKE Rocket21 at facebook.com/rocket21. FOLLOW Rocket21 on Twitter at @rocket21.
About Ansel Brown
An unforgettable voice, an unerring ear for a hit, and a heart as big as all outdoors – Ansel Brown has always possessed the attributes of the All American country star he was born to be. The fact that it took some living for him to figure it all out only makes his story – and his music – all the more compelling. Following a career path that has been anything but traditional, Brown is that rare artist who is simply incapable of singing something he doesn't believe and the kind of person for whom belief is everything.
To learn more about Ansel Brown, visit anselbrown.com. LIKE Ansel Brown at facebook.com/anselbrownfans. Follow Ansel Brown on Twitter at @anselbrown.
About West Coast Songwriters
West Coast Songwriters is a 501(c)3 nonprofit educational organization.
Founded in 1979, WCS has grown into one of the most active music associations in the USA, offering more than 25 events per month. Whether the goal is personal expression or to make a living in the music industry, knowing how to write or recognize a well crafted song is the key to success. At WCS, members establish important relationships, both professionally and personally, that enhance and accelerate their development. Music ceases to be a solitary pursuit and becomes a shared endeavor through the focus, feedback, collaboration, contacts/networking and support that WCS provides.
To learn more about West Coast Songwriters, visit http://www.westcoastsongwriters.org. Like WCS at facebook.com/westcoastsongwriters.