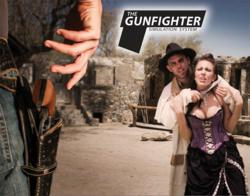 Adding a simulator to an existing gun range will offer shooters new and challenging scenarios
Lafayette, Colorado (PRWEB) May 22, 2013
Sports Entertainment Specialists, Inc. (SES) is proud to announce a high tech solution for shooting facilities. With demand for range time at an all-time high, gun stores, shooting ranges and training centers are clamoring for ways to meet the needs of their customers. "Adding a shooting simulator to a facility can help provide diversity for members as well as a great way to introduce new shooters to the sport in a safe and non-threatening environment," suggests Jason Trupp, sales manager at SES.
The Gunfighter Shooting Simulator is built for entertainment with the ability to be upgraded into a full blown training system. Using video based scenarios and computer generated imagery, the Gunfighter offers the most realistic shooting experience available today. "The footprint of these simulators is compact enough to fit in a small area of a store or range, while providing a large immersive simulation experience," commented Todd Mallon, President of SES.
One of the key benefits of the Gunfighter is the ability to use real firearms with laser inserts for a whole new level of training. The system also works great with non-lethal weapons including OC canisters and civilian TASERS. A great companion to CCW (Carrying a Concealed Weapon) training, the Gunfighter helps develop proper technique and effective practice. Shooters can also utilize recoil insert kits for added realism. This simulator is perfect for target acquisition, shot grouping, muscle memory and general skill development; as well as a great way to start training new shooters.
Some of the video based scenarios include facing down crazed zombies or shooting it out with old-fashioned western bad guys. "Adding a simulator to an existing gun range will offer shooters new and challenging scenarios, especially those who have grown tired of traditional paper target shooting." added Mr. Mallon. The entertaining aspect of this simulator attracts a crowd and is an innovative way to bring repeat business.
About SES - Sports Entertainment Specialists, Inc.
SES is an award winning expert in the sports simulation and training industry. Their mission is to provide unbiased recommendations and continually offer the right solution for their clients. SES offers the most easy to use, cutting edge, hunting and shooting simulators as well as an extensive collection of golf and multi-sport systems.