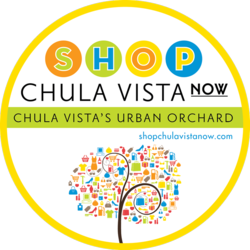 Chula Vista, Ca. (PRWEB) April 25, 2013
Money spent locally improves public services locally. It's not a new concept, but it is an important issue for the city of Chula Vista as city officials look at new ways to support local businesses and increase services through captured sales tax.
Chula Vista, San Diego County's second largest city, is actively forming partnerships with local businesses and working to encourage residents to shop locally through a developing program called Shop Chula Vista Now.
Throughout 2013, more than 100,000 Shop Chula Vista Now incentive cards will be distributed to those who live, work and visit Chula Vista. The cards will provide discounts at participating businesses. Currently, more than 100 Chula Vista businesses are involved with Shop Chula Vista Now, and it is anticipated more than 300 will be in the program by the end of the year.
Participating stores, shops, restaurants, hotels, beauty salons, gas stations and other businesses display signs in their windows to let customers know they can get a Shop Chula Vista Now discount. The colorful, eye-catching graphics will be instantly recognizable to customers.
Shop Chula Vista Now promotions are offered at locations throughout the city including businesses in Downtown, Eastlake, Otay Ranch, Rolling Hills Ranch, the Marina, and other communities.
ShopChulaVistaNow.com has information for shoppers and merchants about how to acquire an incentive card, or to register as a Shop Chula Vista Now business. The website also identifies current participating businesses, their locations and discount offers.
About the City of Chula Vista
The City of Chula Vista is located at the center of one of the richest cultural, economic and environmentally diverse zones in the United States. It is the second-largest City in San Diego County with a population of nearly 250,000. Chula Vista boasts more than 50 square miles of coastal landscape, canyons, rolling hills, mountains, and a variety of natural resources and quality infrastructure. Established neighborhoods, contemporary communities, start-up firms, corporations, nationally recognized entertainment venues, the nation's only warm weather Olympic Training Center, an award winning nature center and a historic downtown all contribute to Chula Vista's attraction for both families and businesses.