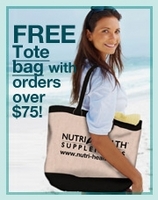 Our new free shipping program applies to every product purchased online through the end of 2010, with no limits based on order quantity.
Cottonwood, AZ (PRWEB) November 9, 2010
With more health options on the market and dramatically increased online shopping outlets, consumers are looking for quality products at a fair price from companies they trust. For over 20 years, Nutri-Health has provided a unique line of probiotic, antioxidant, and vitamin supplements to an established and growing customer base.
"Our customers are very loyal to the Nutri-Health brand," says Trish Mahon, Nutri-Health President. "We are seeing more of them turn to our website, http://www.nutri-health.com, for easy, streamlined re-ordering and money-saving offers on new and existing products. We want to make this process even simpler with free shipping. Our new free shipping program applies to every product purchased online through the end of 2010, with no limits based on order quantity. We are also offering an organic canvas duffel/tote bag absolutely free to any customer ordering over $75 worth of product. It makes a great gift!"
Mahon reports that thousands of customers visit the Nutri-Health website each month, with many trying new products and taking advantage of product bundles, discounts, and savings.
"Free shipping dramatically reduces the customer's bottom line," says Mahon. "This is a much needed savings that many of us can use in this challenging economy, especially during the holiday season. I predict a real boost to online shoppers who are out there comparing holiday deals and offers."
"Shop Affordable" Program Offers Better Health and Savings Online
Much of America now shops online and many cite convenience and immediate access to competitive online pricing as their motivation. The internet is rapidly evolving into a global storefront and becoming one of the first places that consumers look for new products and prices.
"We want our customers to get the best health and wellness deal possible," says Mahon, "and we're concerned about the health of consumers' pocketbooks as well as their lifestyles. We believe free shipping should no longer be a luxury but should become the new 'affordability standard' for all smart shoppers."
Nutri-Health's new Shop Affordable program featuring free standard shipping goes into effect immediately and runs through the end of 2010. For a limited time, shoppers will also receive a free organic cotton duffel/tote bag on all order over $75, which would be the purchase of any two bottles of Nutri-Health's premium probiotic, enzyme, or nutraceutical blends at standard pricing.
Popular Probiotic Supplements Drive Holiday Health Sales
The Nutri-Health product line began over 20 years ago with its flagship multi-probiotic product, Flora Source® Multi-Probiotic®, and has since grown to include an extended line of probiotic supplements that target:

Digestive and immune health
Nasal sinus health
Women's health concerns
Healthy, sound sleep
"We've focused on probiotics for over two decades for their myriad of health benefits," says Michael Lee, Product Development Director for Nutri-Health. "Recently, we've seen consumer interest in probiotics rise significantly thanks to health experts such as Dr. Oz and increased interest in natural methods to keeping the digestive and immune systems healthy."
In addition to probiotic supplements, Nutri-Health also offers enzyme supplements and a premiere line of antioxidant, botanical, and vitamin supplements.
"Each product from our heart health, memory health, and eye health supplements to our probiotic blends is created with careful attention to what health consumers are looking for, and what hasn't yet been formulated," says Lee. "Nutri-Health was founded on innovation. That spirit is alive and well today."
For more information on Nutri-Health's product line and to order with free standard shipping, visit http://www.nutri-health.com.
###