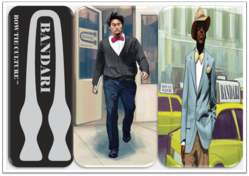 "You can never be overdressed or overeducated." Oscar Wilde
Boston, MA (PRWEB) October 18, 2012
Bandari Bow Tie Culture is a new online store front (http://www.shopbandari.com) for bow ties and pocket squares, with a focus on quality and exclusivity.
Shopbandari.com has classic patterned silk bow ties, but the majority of the range is comprised of bow ties made from authentic Japanese vintage silks. These silks are turned into limited-edition (only 1-3 bow ties of each pattern can be made from a single panel of fabric), hand-made bow-ties by their seasoned tailor.
Out of respect for tradition and individuality, shopbandari.com only produces self-tie bow ties.
Each bow tie is sold with a coordinating, hand-rolled pocket square and a custom, 100% cedar box.