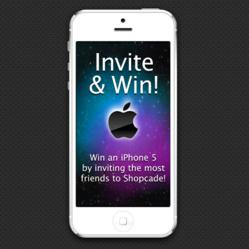 Invite friends to join Shopcade for a chance to WIN an iPhone 5!
(PRWEB UK) 6 October 2012
Social shopping site Shopcade.com has announced the launch of "Invite Friends To Win An iPhone 5", a competition which encourages trendsetters to join them on Shopcade for a chance to win an iPhone 5.
Shanna Gualtieri, Head of Social Media at Shopcade said:
"After the hype of the iPhone 5 engulfed our social space, we thought it was the perfect time to launch our Phone 5 campaign as a lot of shoppers had missed out on getting their hands on the phone, even though 5 million were sold,
"Additionally we thought, this was a great chance to encourage new users to Shopcade and also to promote numerous unique "gadgets" from cool tech brands like Firebox, Think Geek and Play.com available now on Shopcade, Miss Gualtieri said"
Over 1,000 people have taken part in the competition to date, now is the time to prove your own popularity by inviting as many friends as possible to Shopcade, for a chance to win one of the coolest gadgets of 2012!
Shopcade will also reward it's trendsetters throughout October with bonus points for shopping trending 'Gadgets'. Shopcade users can spend their bonus points on exclusive trendsetter perks including: iPhone 5 accessories, Beats by Dr Dre headphones, an Amazon Kindle plus loads more.
Play the mission to WIN an iPhone 5 here:http://www.shopcade.com/mission/invite-iphone5.
Join Shopcade now for a chance to Win:http://www.shopcade.com
ENDS
For more information:
Contact: Shanna Gualtieri, Head Of Social Media
Email: shanna (at) shopcade (dot) com
Phone:+44 (0) 203 327 3130
About Shopcade
Shopcade is an innovative trend-based social shopping site where you can discover, shop, share and get rewarded for it. Shop what's trending for you from over 100,000 brands and 70 million products, unlock exclusive deals from today's hottest brands and become a top trendsetter to win prizesShopcade is founded by successful entrepreneur, Nathalie Gaveau, who previously cofounded PriceMinister (sold to Rakuten for 200 million euros in 2010). The company also has well-known investors, including Carrefour's Daniel Bernard, Eidos' Ian Livingstone and the BBC's Lord Birt.
For more information, please visit: http://www.shopcade.com