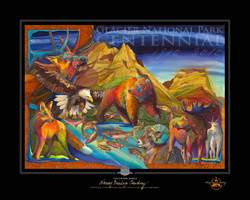 "We love the Park; we want to share it with people, and we want to give back to the Park." - ShopGlacier.com Founder Mike Callaghan.
Bigfork, MT (PRWEB) March 31, 2010
ShopGlacier.com launched this spring in step with Glacier National Park's Centennial celebrations. The site not only offers visitors a chance to keep in touch with the Park after they leave western Montana, but also gives the small businesses, shops and artists surrounding the Park the opportunity to extend their business beyond the borders of their storefronts, and beyond the short, summer season.
"It gives the merchants the ability to sell their products on the web with no upfront costs," says ShopGlacier.com founder Mike Callaghan, "and provides the opportunity for local merchants to extend their reach beyond the Flathead Valley."
Beyond providing this online store, the site aims to give back to Glacier National Park. For Callaghan, this is where he started his web business and this is where he made his home. The Park drew him to northwest Montana as it has drawn so many others.
"My inspiration for this project has always been to allow people that are not here to be able to experience the park in some way. We love the park; we want to share it with people, and we want to give back to the park," says Callaghan.
A portion of the proceeds generated at ShopGlacier.com will go directly to the Park to help with any of their numerous educational, accessibility and preservation programs. Giving back is a driving force behind the foundation of ShopGlacier.com. It works as a Glacier gift shop featuring a host of Glacier Centennial specific products inspired by the mountains, glaciers, wildlife and recreation of the Park. The site celebrates the last hundred years while looking forward into the next hundred.
ShopGlacier.com includes the work of contemporary western artist Nancy Dunlop Cawdrey, Glacier Park's Centennial Photographer Bret Bouda whose "Timeless Light" series includes photos of Glacier Park landmarks, as well as photographers David Sylvester and Paul Spade whose snapshots capture the places and wildlife of Glacier. The site also works as an online store for local businesses including the Bigfork Fudge Company whose fudge products include the huckleberries native to the Rocky Mountains; the vintage signs of Meissenburg Designs capturing the rustic feel of the west; Colter Coffee's Montana-roasted products, and an ever expanding line of products made in or inspired by the beauty of Glacier Park.
Callaghan says an advantage of having some of the better known artists like Nancy Dunlop Cawdrey is that it helps increase the visibility of the Glacier Park art and products available.
"Smaller businesses that may not have a national reputation can get exposure through some of the other, better known merchants," says Callaghan. "By everybody coming together, it 'raises the tide' for everyone."
###