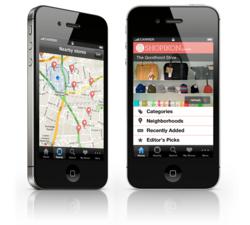 As chain stores fill the streetscape the world over, Shopikon is a celebration of the independent retailer
London, United Kingdom (PRWEB) May 10, 2012
Yesterday, just in time for this summer's influx of Olympics spectators, Shopikon's London Guide to the best local shops has become available for free in the iTunes Store, making it easier for visitors and locals alike to find and keep track of the diverse offerings of independent retailers across the city. In combination with the website, http://www.shopikon.com, users can even create and synchronize their personal lists of shops they would like to visit!
In celebration of the launch of this App, Shopikon is hosting a contest, calling bloggers to write about their favorite shops in London, and giving away an all expense paid shopping trip to London.
Inspired by the belief that a city's character is defined in part by its unique stores, Shopikon is a mobile guide that helps tourists and natives discover the best local shops in some of the world's most exciting cities. London is the fourth city in which Shopikon becomes available, adding to New York City, Barcelona and Vienna, where the guide catalogs a diverse selection of shops – from neighborhood bookstores and traditional candy stores to avant-garde design and hip boutiques.
Visiting and vetting thousands of stores, Shopikon editors are very particular. Only the best of the bunch make it into the guide. Shops are evaluated based on product selection, atmosphere, dedication to their specialty, and overall shopping experience. Each store profile is crafted from original photography and interviews with owners to give readers a true inside peek.
Searchable by neighborhood or product, the app features reviews, photos and contact information, including public transportation routes. Users can easily map nearby stores and find restaurants and cafés recommended by store owners. New shops are constantly being added to each city guide, with guides for Paris, Berlin and San Francisco next to launch.
To download the Shopikon London Presskit, please click here.