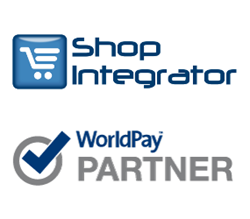 As businesses evolve and grow it is important to offer customers a choice of online and offline payment options.
London, UK (PRWEB) August 30, 2013
ShopIntegrator provides a McAfee Secure, cost-effective ecommerce system. Its simple copy and paste technique enables businesses of any size to create an online store in a matter of minutes. With over 18 ecommerce buttons and widgets, merchants can quickly and easily tailor their online shop to suit their own individual business needs.
A desktop, mobile and tablet compatible product, ShopIntegrator is ideal for small to medium enterprises (SMEs) selling physical shippable goods, customized and personalised products. In addition, any kind of digital download can be sold with ShopIntegrator's digital download cart. Music, audio tracks, multimedia, software, PDF e-books all benefit from high capacity storage and superfast global delivery through Amazon's CDN.
As of July 2013 ShopIntegrator became a WorldPay approved partner. WorldPay's online payment gateway solution is now fully integrated into the ShopIntegrator shopping cart and checkout, adding to the wide range of payment processors it offers its merchants.
Simon Horton, Business Development Director from ShopIntegrator stated, "Becoming an approved partner offering seamless integration with WorldPay payment services supporting the growing list of leading payment gateways we now connect with. In the UK alone over 43 million adults have a debit card and 30 million hold a credit card*, so being able to offer customers the payment option of their choice means increased likelihood of a completed online sale."
ShopIntegrator offers a range of online and offline payment options. And, alongside a principle payment processor, with ShopIntegrator merchants can also choose Pay by Bank Transfer and offer offline payment options like Pay on Delivery, Pay on Collection, Pay by Phone or Pay by Cheque.
Rupert Lowery, Chief Digital Officer at WorldPay commented, "Many new businesses begin with a simple online payment service such as PayPal, often offered as part of a basic shopping cart start-up package. But as businesses evolve and grow it is important to offer customers a choice of online and offline payment options. Our online payment gateways allow businesses to accept more than over 200 payment methods in 115 currencies."
ShopIntegrator's PCI DSS compliant shopping cart and checkout solution can be added into any HTML website. And with specific integration guides for many popular DIY site builders and content management systems, setting up an online store couldn't be quicker or more straightforward.
The shopping cart and checkout is designed to match the rest of the website and add-in ecommerce buttons include product and inventory management, shipping plan creators, delivery notification emails, discount coupon codes, country and regional taxes, invoice generation, multi-currency pricing, donation and pay what you want options.
Ultimately businesses benefit from a cost-effective, McAfee Secure, feature rich ecommerce solution which is added quickly and simply to any website platform.
Visit ShopIntegrator for further information and to find out about the free shopping cart trial.
*Source: UK Cards Association
About ShopIntegrator
Established in 2004, ShopIntegrator provides SMEs with secure, easy-to-use hosted shopping cart software. ShopIntegrator's competitive pricing and straightforward installation process allows merchants to turn their website into an online store within a matter of minutes. McAfee Secure and PCI compliant, ShopIntegrator's shopping cart is compatible with most websites so there is no need to change web hosting companies.
ShopIntegrator is a powerful e-commerce and m-commerce checkout. There is no software to install and its uncomplicated, no cost set-up requires little technical knowledge and can be added into HTML website templates or DIY site builders such as Weebly, Moonfruit, Yola, Webnode, 1&1 MyWebsite, Basekit, Webs and Vistaprint. ShopIntegrator also has dedicated plug-ins to simplify adding ecommerce into popular Content Management Systems (CMS) such as WordPress, Drupal and DotNetNuke (DNN).
About WorldPay
WorldPay is a leading global provider of payment and risk services, giving businesses the ability to accept credit and debit card payments face to face, by phone or online – regardless of size.
We handle nearly half of all card transactions in the UK, processing over 8.4 billion transactions every year. Unifying seven leading retail payment solutions, we offer services across the entire payment value chain, including acquiring, gateway, alternative payments, risk management, and mobile payments. Our online payment gateways cater for over 200 payment methods in 115 currencies.