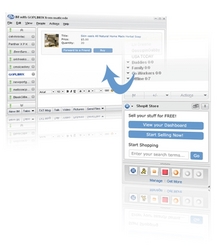 Shopit's easy-to-use commerce platform combined with AIM's large online community makes it easy to converse about products over IM and then make purchases quickly and easily. We are thrilled to offer our mini-application within the AIM service
Los Angeles, CA (PRWEB) June 30, 2008
Shopit, the fastest growing free Peer to Peer Social Commerce Network, announced today that it has created a new mini-application for users of the latest version of AOL's popular instant messaging service, AIM 6.8, which is available as a free download at http://www.aim.com. The new Shopit mini-application enables AIM users to buy and sell goods right from the AIM Buddy List.
AIM users simply click on "Get More" at the base of their Buddy List feature to find the Shopit mini-application in the Top Picks section. Users can quickly set up an online store or use their existing Shopit store, post items for sale, search for items they want to buy and connect with other AIM users who have similar interests in items and services for sale. AIM users can pay for goods in 16 currencies with Shopit. Shopit offers Google Checkout, PayPal and other methods of payment directly from the Shopit mini-application. There are no listing, hosting or transaction fees with the Shopit service. More information about the Shopit mini-application can be found at http://gallery.aim.com/detail/543.
"Combining the power of IM communication and the technology to buy and sell goods in real-time is a big step in bringing P2P Commerce to everyday communication on the Internet," said Matt Hill, CEO, Shopit. "Shopit's easy-to-use commerce platform combined with AIM's large online community makes it easy to converse about products over IM and then make purchases quickly and easily. We are thrilled to offer our mini-application within the AIM service," said Hill.
About Shopit
Shopit is the leader in free social commerce. The platform enables efficient sharing and publishing of products and information anywhere online. Products and Services can be directly linked from Shopit to any site, including popular destination properties like MySpace, Facebook, Bebo, Friendster, Blogger, LiveJournal, Xanga and many more. Shopit enables users within these networks to buy and sell goods and services. Shopit's free commerce platform provides 100 percent Identity Management/Security features, Shipping Management, and the Moderation of the products, services and content published by its users. Shopit's free service is compatible with most social networks, Blogs, and traditional ecommerce sites such as eBay, Craigslist, Yahoo Stores and Amazon. The service also supports communication with LinkedIn and Plaxo.
For more information, go to http://www.shopit.com.
Media Contact:
Shopit
James Revell
(310) 987-7955
james@shopit.com
###