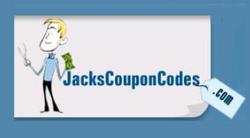 Merchants have responded well to the consumer's many lifestyle needs
Streamwood, IL (PRWEB) October 23, 2008
As household budgets continue to tighten, more consumers than ever are hunting for coupons like a part-time job. Their goal is to better make ends meet, and an increasing number of online shoppers are realizing that surfing first to find those all-important promotional codes is a smart way to offset the rising cost of just about everything money can buy.
The growing availability of paperless digital coupons and printable coupons online are bringing thousands of new visitors to coupon code websites such as Jack's Coupon Codes (http://www.jackscouponcodes.com). According to founder Ashley Rader, a lackluster economy can be credited with driving a more diverse crowd of coupon seekers to sites like hers. "When people are faced with $4-per-gallon for gas and grocery prices through the roof, it just makes sense to shop online with coupons for just about everything else you need. Otherwise you could be leaving money on the table."
The rising price of goods is driving shoppers from all walks of life to use coupons for food, pharmacy items and beauty aids at an increasing rate. In fact, studies show that people who commit to using coupon codes for most of their online purchases can save up to $1,000 per year.
There has been a 75% increase in new visitors and coupon club members to Jacks Coupon Codes, Ashley says, many of whom began frequenting the site in recent weeks since the peak of the economic crisis. Her site also is visited by more dual-income families and single professionals, not just married homemakers as the old stereotype suggests. Another prominent trend: a younger demographic has gotten on the coupon shopping bandwagon.
"Merchants have responded well to the consumer's many lifestyle needs," adds Rader. "Many use our online coupons for discounts on brand name cosmetics or electronics, but an enormous number of makers in other categories are heavy in the coupon game, too."
When asked which merchandise or service categories seem to be the most popular, Rader says, "It's hard to say exactly. Historically, women are said to buy more lipstick and fragrances - small beauty items -when times get tough. But it's also worth mentioning that big-ticket items like our travel discounts and electronics coupons still get hits at a good clip as people who might not otherwise be able to afford these items are finding them much lighter on the wallet when they use coupons. People who're more financially fit are even feeling the pinch these days, too. They're still traveling, but now do their homework to book flights and hotels for less."
Jack's Coupon Codes partners with over 1000 online stores and brands featuring more than 10,000 featured discount codes and coupons. The website provides discount promotion codes to shop everywhere from Amazon, Best Buy and Orvitz to Match.com, Café Press, Angie's List and beyond. Jack's caters to people seeking discounts on wedding gifts, costumes and party favors, pet medicines and foods, batteries, house wares and home décor goods, and electronics and computer goods. There's even an Apple Store discount microsite at Jack's Coupon Codes.
###