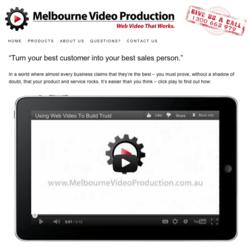 It won't be long before these ads are the only way people shop online.
Melbourne, Victoria (PRWEB) December 07, 2012
Earlier in November, advertising and marketing news website AdvertisingAge reported about the first glimpses of YouTube's new "shoppable" ad videos. This novel style of video advertising allows viewers to click on a boxed part of the screen to be taken to a retailer's site to purchase the item. Although still in its infancy, the new video ads have created a rise in queries at Melbourne Video Production. "Our clients are asking if our custom web videos are suitable for this new style of YouTube marketing," says David Jenyns, web video expert and owner of Melbourne Video Productions, "And the answer is yes!"
Web videos have become an integral part of the online experience, with businesses using YouTube as a way to better display and market their wares to the growing population of internet shoppers. YouTube realizes that watching web videos is easy, but the trickier part is getting the viewer to click-through to purchase what they've just seen.
YouTube is trying to help create a clearer path to retailers' check-outs through the advent of the "shoppable" video ad. This new type of video aims to close the gap between YouTube and the retailer, using something called annotations, which allows viewers to click on boxed areas of the videos to purchase an item.
Melbourne Video Production's director and web video expert, David Jenyns states that even though the "shoppable" video ads are still in their infancy, "They're [YouTube] are only going to improve the technology to make them more and more viable to online businesses."
David goes on to say the new-fangled and clickable videos are a little cumbersome, "as they stand right now, they don't allow the viewer to have a completely smooth shopping experience while the video is playing, because the video stops once they click to buy." David remarks that once YouTube contrives a way to keep the video streaming while allowing the viewer to purchase, "It won't be long before these ads are the only way people shop online."
Many businesses see the value in YouTube offering "shoppable" video ads, and the interest has created a buzz amongst web video experts like David.
David's custom web video company, Melbourne Video Production has received a considerable increase in queries in relation to their products being applicable to this new style of advertising.
"Because we're a fully professional video production company," continues David, "we're able to create custom web videos that will work perfectly with this new style of shoppable ad."
David further emphasizes that using web videos, even without YouTube's new annotation technology, will improve a site's conversion. "It's becoming a known fact that the use of web videos is one of the easiest ways to knock down hurdles for buyers," David says, "On its own, a web video increases a website's conversion rate, regardless of if it's a product or service business. And once YouTube tweak their shoppable video ads, that conversion rate will soar."
David also notes that Melbourne Video Production offers three web video packages, as well as custom video and studio hire options. To learn more about Melbourne Video Production's custom web video services, click here.
About Melbourne Video Production
Melbourne Video Production is a division of MelbourneSEOServices.com, a full service search engine optimization (SEO) consultancy, based in Australia, but with a worldwide client base.
Melbourne Video Production has the unique ability to combine their web video expertise with strategic SEO practices from Melbourne SEO.
Director, David Jenyns, has, over several years, built a team of experts who are niche experts to support the business, and who share his ethos for ethical, professional online marketing and web video.