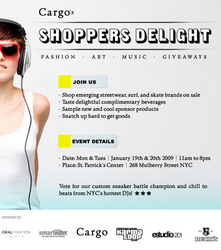 New York, New York (PRWEB) January 5, 2009
Cargo, the independent fashion trade show and shopping event, is back for its 2nd installment. This time, the two-day event will feature lifestyle pop-up shops from some of the industry's hottest brands. Open to the general public, apparel, footwear and accessories brands will now be able to sell wholesale to retailers as well as have the opportunity to sell discounted inventory directly to consumers.
Cargo is truly a unique show trail blazing new paths to conduct business in the fashion industry. By creating an atmosphere filled with music, gifts, drinks and shopping, fashion brands will have additional avenues to showcase their products for this season and next. Established brands will have a new outlet to move inventory and emerging brands will have a chance to generate a buzz for their fresh product.
"Bigger is not always better and the Cargo trade show is a testament to that notion. It was well edited and had a laid back atmosphere. It offered everyone a more intimate experience that is conducive to building relationships," said Eric Cano, Antenna Magazine
"The term 'trade show' is often associated with large, impersonal convention spaces, a sea of promotional booths, and spokesmodels galore. Cargo, a new alternative boutique trade show flips that notion on its head. Cargo has also replaced the traditional trade show setting with a more relaxed environment, opting for a lounge setting where exhibitors and buyers alike can chill and do business."-Joshspear.com
Sponsored by: Oral Fixation Mints, Smartwater, LTD Limted Edition Magazine, Karmaloop, estudio201, Beck's Beer
Cargo Dates and Times:
Day 1: Monday January 19, 2009
9:00 pm Monday reception, complimentary drinks & great music! RSVP to info (at) cargotradeshow.com
Day 2: Tuesday January 20, 2009
Location:
St. Patrick's Center in the NYC's Nolita neighborhood
268 Mulberry St. NYC (between Prince and Houston)
How to get there:
Take the B D F V trains to the Broadway-Lafayette St.
For full info, visit: http://www.cargotradeshow.com
Cargo's Shopper's Delight
###