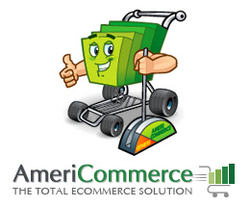 Online store owners demand flexibility in the payment options offered to their shoppers and PayPal offers multiple services that can increase online sales by appealing to the shopper's preferred methods of payment
Beaumont, TX (PRWEB) December 12, 2007
AmeriCommerce announces certified integration between the AmeriCommerce Shopping Cart Software and the new PayPal Express Checkout service. This new service adds to the existing PayPal payment methods AmeriCommerce integrates with including Website Payments Pro, Website Payments Standard, and the Payflow Pro gateway.
AmeriCommerce has worked together with the PayPal certification teams to test and verify all aspects of the integration with PayPal. In response PayPal has certified the AmeriCommerce Shopping Cart software for these payment models.
PayPal Express Checkout integrates directly with the AmeriCommerce Shopping Cart Software to provide a simplified checkout process for all PayPal customers where the shopper provides their payment information to PayPal, rather than the storefront. PayPal Express saves store owners money as it can be used without monthly payments charged by most payment gateways.
PayPal Website Payments Pro model seamlessly integrates with the shopping cart and accepts all major credit cards using AmeriCommerce's One Page Checkout, while removing the need for a separate gateway or merchant card processing system.
"Online store owners demand flexibility in the payment options offered to their shoppers and PayPal offers multiple services that can increase online sales by appealing to the shopper's preferred methods of payment," said Kenneth Vincent, Sales Manager for AmeriCommerce. "Offering our clients these certified payment methods will aid in converting visits into sales."
The new payment methods are introduced in conjunction with other payment optimizations that support the AmeriCommerce Multiple Storefronts™ Shopping Cart management model and include additional storefront specific settings for payment options, payment gateways and markups.
AmeriCommerce provides ecommerce solutions to a variety of online businesses, including shopping cart software, ecommerce hosting, web design, custom development and marketing consultations. Clients include B2B, B2C and internal purchasing systems in various industries.
About AmeriCommerce
AmeriCommerce is a full service e-commerce solution provider. In production since 2000, the AmeriCommerce shopping cart software is built on the concept of marketing performance, ease of use, and customization. AmeriCommerce provides their customers with everything they need to design and operate a successful online storefront. AmeriCommerce also assists the development of accounting systems, call centers, marketing, and distribution, which is the infrastructure supporting the e-commerce business. For more information, visit the AmeriCommerce web site (http://www.americommerce.com).
###