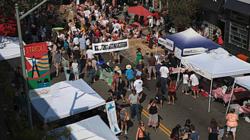 The Rockridge District Association is dedicated to enhancing Rockridge through public works as well as promotional and beautification initiatives to develop a strong, vibrant and diverse business center
Oakland, CA (Vocus/PRWEB) June 07, 2011
Diesel, A bookstore in Oakland's Rockbridge District Association, is hosting a summer kick-off event called The Free Beer Tour. This event, which will take place on June 9 at 7 p.m., is being organized by Diesel and Algonquin Books. The tour will feature authors from Algonquin Books and patrons will receive a complementary beer as part of the beer tasting event.
"The Rockridge Neighborhood Association is dedicated to enhancing Rockridge through public works as well as promotional and beautification initiatives to develop a strong, vibrant and diverse business center," said Chris Jackson. "And the Diesel Bookstore has some wonderful events lined up for us this month [June]."
The Free Beer Tour in the Rockridge District will be showcasing three Algonquin authors. Josh Wilker, David Anthony, and Pete Nelson will all be on hand to promote their exceptional works which will be great for summer reading. Josh Wilker is the author of the memoir "Cardboard Gods: An All-American Tale." David Anthony is the author of the clever debut novel "Something for Nothing" and Peter Nelson is the author of the novel "I Thought You Were Dead," which is a nostalgic story about the bonds between dogs and humans. To compliment Diesel, A Bookstore's there will be a beer tasting event sponsored by the Lagunitas Brewing Company of Petaluma. Aside from hosting a unique literary evening in the Rockridge District, The Free Beer Tour will also stop in Milwaukee, Boston, Austin, Texas and Naperville, Illinois.
The fun doesn't stop after the Free Beer Tour -- not for June. Diesel, A Bookstore will also be hosting Poetry Flash, with Bruce Isaacson and Toni Mirosevich on June 12 at 3 p.m., a discussion of Howard Jacobson's "The Finkler Question," a Book Group discussion on June 13 at 6:30 p.m.; a discussion with Ruth Cohn on "Coming Home to Passion," on June 15 at 7 p.m.; a discussion with Lama Surya Das on "Buddha Standard Time," on June 21 at 7 p.m.; a publication party for Charles McLeod's "American Weather," on June 26 at 3 pm; and, to round out the month, an author talk for "Fighting Cancer," on June 29 at 7 pm.
For more information about the Free Beer Tour or any other Diesel, A Bookstore's June events, call Chris Jackson at (510) 604-3125 or visit http://www.dieselbookstore.com/ and the Rockridge District Association's website at http://www.rockridgedistrict.com.
About Rockridge District Association
Rockridge, Oakland's leading district in retail sales, is located along pedestrian-friendly College Avenue. Lined with trees, inviting storefronts, cafes and restaurants, the shopping district combines urban sophistication with a relaxed paced. Rockridge boasts a concentration of eclectic, independently owned retail stores, restaurants and art galleries in the East Bay, which makes it a desirable destination for visitors and neighbors alike.
###