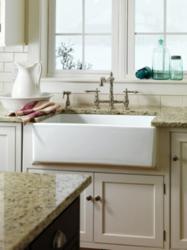 How kitchen sink is installed is important as well, and it is a decision that has to be made before purchasing a new kitchen counter top.
(PRWEB) November 30, 2012
HomeThangs.com – the Home Improvement Super Store has made their goal to deliver the right product to the consumer, with that in mind, shopping and home design tips, as well as special product selections are being introduced.
Choosing the right kitchen sink is a major commitment. After all, a good kitchen sink should last for the lifetime of the kitchen – or at least until the next major remodel. Many factors go into making a sink the "right" one for the kitchen, and they'll be different for every person, but HomeThangs.com introduced a quick list of things to think about to help find a place to start.
1. Sink Size
It can be tempting to buy a big, beautiful double or even triple bowl sink, but a sink that's too large can overwhelm a small kitchen and take up too much counter space. Besides, in a kitchen that is 150 or fewer square feet, a smaller sink like the 9x17 Single Bowl sink by Vigo will work much better, and it will maximize available counter space. That said, multi-bowl sinks are great for larger kitchens, and can even make kitchen prep and cleanup easier by allowing to put the dirty dishes in one part of the sink while still having room to rinse vegetables in another bowl.
2. Number of Faucet Holes
This one is maybe a bit nitpicky, but it is important to think about. Kitchen sinks typically have between one and five holes. For example, the Executive Chef sink from Kohler has four holes – and while one can cover up extra holes, it can be difficult or impossible to add them if they are needed later on. It is recommended to pick a sink and faucet together. Kitchen faucets can require one, two, or tree holes, depending on how the handle is set up and whether or not it's attached to the spout, but you also want to consider whether or not that faucet comes with a sprayer, whether or not you want to install a permanent soap dispenser, and whether or not an additional filtered water tap is needed. Even a single-hole faucet, when paired with all these accessories, can require four holes, so it is important to get a sink that can accommodate the needs.
3. Installation Type
How kitchen sink is installed is important as well, and it is a decision that has to be made before purchasing a new kitchen counter top. With the exception of apron style sinks like the Farmhouse Sink from Barclay (which, really, are a form of undermount sink) there are two types of kitchen sinks – self rimming and undermount. Self rimming sinks have a lip that goes all the way around the top edge, which allows to more or less just set them on top of the counter. Heavier sinks, like enameled cast iron, will hold themselves in place with their weight, but lighter sinks, like stainless steel ones, will probably need to be screwed or clamped into place. Self rimming sinks are the fastest and easiest to install, and can typically be installed in any kind of kitchen counter. Undermount kitchen sinks, on the other hand, attach to the underside of a kitchen counter. This creates a smooth, seamless finish and makes it easy to sweep water or debris off the counter and into the sink, but is also much more difficult to install (it can take at least twice as long), and requires a counter top made of a solid material, as a rim of it will be exposed all around the edge of the sink.
4. Materials
Material is probably the biggest decision to make with regards to the kitchen sink, and with basically every type claiming to be the best, most durable, and most beautiful, it can be a little difficult to decide.
a. Copper
Copper kitchen sinks are a highly decorative luxury item, often artisan made and beautifully hand finished, like the gorgeous Farmhouse copper sink from Whitehaus or Artisan for example. They can be either highly polished with a new-penny shine or, more likely with a deep, rich patina that will continue to develop with use (and requires a lot less maintenance). Copper kitchen sinks are naturally antiseptic, which makes them the most naturally bacteria free of any sink material, and also makes them easy to clean. Plus, because copper has an organic finish, any scuffs or mars will eventually blend back in to the surface of the sink. The one thing to be aware of is that the patina on the copper is very sensitive to acid, so one has to be careful not to leave acidic foods like tomato, vinegar, or lemon, on the surface too long. It won't hurt the sink, but it will "clean" it back to that new-penny finish, which can take time to blend back in to the rest of the sink.
b. Stainless Steel
Stainless steel is far and away the most popular material for kitchen sinks because they're both affordable and durable. Probably the least expensive sinks on the market, stainless steel kitchen sinks come in almost every shape and size. Be aware, though, that stainless steel sinks will scratch – a fact that can actually enhance the appearance of a sink with a satin finish like the Double Bowl sink from Vigo, but which can really ruin one with a mirror finish very quickly. Also, it is recommended to look for a lower gauge (the lower the number the better, 16-18 is ideal) and some sort of sound dampening feature. The lower the gauge the thicker the sink and the less likely it is to dent, and the less likely it is to make a lot of noise when exposed to heat or cold, or if an item is dropped into it.
c. Enameled Cast Iron
Enameled cast iron kitchen sinks like the Anthem Sink by Kohler are probably the most traditional choice, this is the type of sink often seen in older homes. That said, they're falling out of favor for a reason – they're very heavy, and while they're highly resistant to acid and minor surface scratching or staining, they don't hold heat well, and have a bad habit of chipping if heavy objects are dropped on them. Unlike sinks made of a single material all the way through, when enameled kitchen sinks chip, it shows, and the underlying cast iron can even begin to rust over time. So for those who live in an older, traditional home, an enameled cast iron kitchen sink is the most authentic (if not necessarily the most practical) option.
d. Fireclay
Fireclay kitchen sinks are made out of special, ultrafine white clay that's extremely dense and, when fired, creates a surface that's non-porous and extremely hard. That means that, while they look similar to enameled kitchen sinks, they have quite a few advantages over them. The surface is smooth and easy to clean, and resists staining, scratching, chipping, and acids, and retains heat very well. Like enameled sinks, fireclay sinks are quite heavy, and typically come in traditional, farmhouse or apron style sinks like the Luberon sink from Herbeau. Because of the rarity of the type of clay, and the fact that many fireclay kitchen sinks are artisan made, these can be a little more expensive, but are much more durable than most other kinds of sinks.
e. Composite
Composite sinks are kitchen sinks made of a combination of materials, usually quartz or granite, mixed with a sealing resin and heated to very high temperatures. These sinks are among the most durable available on the market, because not only is the stone-based material extremely hard, it's also a consistent color all the way through, so small scratches won't show and larger ones are easily repaired. Composite kitchen sinks like the Diamond sink from Blanco for example, are also rapidly gaining popularity because they're one of the more eco-friendly options, as they're made from what would otherwise be considered "waste" material, and can be recycled. Each company has a different name and mixture for their specific composite material – Silgranit is just one among many – but the material can be dyed with a wide variety of colors to match just about any kitchen design.
HomeThangs.com is not only a home improvement superstore, it also provides expert design tips and a comprehensive shopping guide, taking the ideas from professional interior designers, and offering tips to the consumers on how to pick the products to best suit their needs.