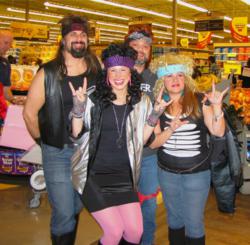 It's crazy, it's fun and it restocks the food pantries at Aurora's Comitis Crisis Center!
Aurora, Colorado (PRWEB) January 16, 2013
"It's crazy, it's fun and it restocks the food pantries at Comitis," said Gayle Jetchick, Executive Director for the District. "Reminiscent of the game show 'Supermarket Sweep,' it's one of the most popular events we do each year."
On Wednesday, January 30, 2013, the Havana Business Improvement District aka On Havana Street hosts its Third Annual Grocery Cart Races to benefit the Comitis Crisis Center in Aurora, Colorado.
Teams of four raise money to pay their grocery bills, create themes and names, decorate grocery carts and make mad dashes through the grocery store aisles to find items from the Center's "food pantry wish list." Teams have less than ten minutes to collect as many items as they can before sprinting to the checkout stands. Past team names and themes include Desperate Housewives, Seat of Our Pants, Queens of the Aisle and Extreme Couponers.
Aurora's Comitis Crisis Center offers emergency housing, crisis intervention, short term treatment, aftercare, outreach, and education and prevention services to Aurora persons ranging from infants to senior citizens. The Center was established in 1970 with an initial mission of providing alternative assistance to youth with substance abuse problems. In 1971, Comitis became the first program to provide services in the region for runaway/throw-away youth.
The host for the event is Safeway at 1677 South Havana Street. Safeway is providing water and snacks for participants. The District expects teams and sponsors to raise $5,000 for the Center. The event's radio sponsor is 107.1 Jack FM.
An awards ceremony will be held Saturday, February 2, 2013, 5:00 PM – 9:00 PM at Noodles & Company at the Gardens on Havana, 10550 E. Garden Drive Aurora, Colorado 80012. Trophies will be awarded to three winning teams. 25 percent of all meals sold on this evening will be donated to the Center. The public is welcome and there is no cost to attend.
Teams can register through Monday, January 28, 2013. Everyone is welcome.
About Havana Business Improvement District
The Havana Business Improvement District (BID) dba On Havana Street is a special district in Colorado created in 2007 by business and neighborhood leaders and Aurora city staff working together to build a stronger, better community. The District makes a difference by focusing on unique, culturally diverse events and fun new things to do and working to keep the area clean, safe and beautiful. For more information please contact Gayle Jetchick, Executive Director Email info (at) OnHavanaStreet (dot) com, (303) 360-7505.