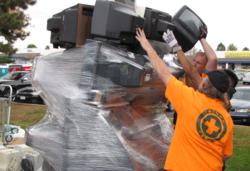 Aurora, CO (PRWEB) April 15, 2013
Earth Day Shopping in Aurora, Colorado, will take a greener shade on Saturday, April 20, 2013, as the Havana Business Improvement District (BID), dba On Havana Street, hosts its 5th Annual free Earth Day Electronics Recycling & Doc Shredding Event.
"Last year, we recycled 40,500 pounds, filling two 53-foot semi trailers with electronics and we shredded and recycled over 28,000 pounds of paper documents," said Executive Director Gayle Jetchick. "The Techno Rescue Green Team and Cornerstone Records Management Company provide outstanding professional support for this event and the Aurora, Colorado community."
Attendees can watch their documents get shredded and can receive an official certificate that the documents have been destroyed. All electronics are safely recycled within the United States. Members of the Graebel Moving Company Sustainability Committee will volunteer their time to facilitate event logistics.
The event is from noon to 3:00 PM in front of Bicycle Village at the Havana Exchange Shopping Center, 2892 South Havana Street, Aurora, Colorado, 80014, just south of Yale on the east side of Havana Street. The radio sponsor for the event is 107.1 Jack FM.
Electronic items that can be accepted include but are not limited to: PCs, CPUs, towers, laptops, notebooks, cell phones, office phones, pagers, monitors, keyboards, printers, copiers, faxes, mice, wires, cables, cords, compact fluorescent bulbs, clothing, textiles, and TV sets.
"Recycling these items clears clutter from homes, businesses and landfills and prevents identity theft," said Jetchick. "And while there's no cost and no limit to the amount of electronics and documents one can recycle or shred, we ask everyone to be considerate of others."
Items that will not be accepted include old paint, tires or other hazardous materials. Aurora residents can contact the City of Aurora at 303-739-7000 to ask about the city's hazardous waste recycling options.
Spring cleaning continues On Havana Street May 4 when the Havana BID hosts its Annual Community Rose Garden Clean-up and Pruning Demonstration at The Gardens on Havana. Participants will learn proper rose pruning from experts and be treated to lunch and receive seeds to get their own flower and vegetable gardens started.
"These are wonderful examples of a coming together to make our community more beautiful," said Jetchick. "And we hope that after people get rid of their old stuff, they'll do some Earth Day shopping in Aurora!"
About Havana Business Improvement District
The Havana Business Improvement District (BID) dba On Havana Street is a special district in Colorado created in 2007 by business and neighborhood leaders and Aurora city staff working together to build a stronger, better community. The District makes a difference by focusing on unique, culturally diverse events and fun new things to do and working to keep the area clean, safe and beautiful. For more information please contact Gayle Jetchick, Executive Director info (at) OnHavanaStreet (dot) com, (303) 360-7505.