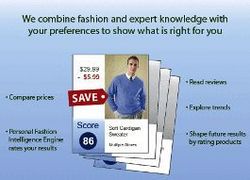 The best part is that it comes for free. Users can take advantage of MyShoppingPal.com's recommendations, and still buy from their favorite stores at the best prices
San Jose, CA (PRWEB) October 25, 2007
MyShoppingPal.com has redesigned its user interface to make it easier for people to shop using its personalized shopping search engine. The new interface incrementally learns about users as they shop.
The shopping website has incorporated the expertise of world's well known fashion experts, gemologists, and cosmetologists into its core engine to guide users in buying the life style goods such as clothes, shoes, bags, jewelry, and health & beauty products. It combines expert knowledge with personal preferences to help users find what is perfect for them from zillions of choices made possible by the Internet.
"The best part is that it comes for free. Users can take advantage of MyShoppingPal.com's recommendations, and still buy from their favorite stores at the best prices," says MyShoppingPal.com's founder Dileep Panjwani.
The improved interface continuously and slowly learns about the user characterstics and preferences. When users join MyShoppingPal.com, they simply need to provide their email address, and the rest of their profiles are built while shopping. When users shop for jeans, the website asks a few questions related to jeans, and presents the items that will work best for them. When they shop for jackets, some more questions are asked. In this manner, the website incrementally learns about them and its results get more personalized and accurate. For most products, it asks between 2 to 6 questions. For instance, for skin care products, it asks about the skin type and skin problems, while for jeans it asks questions pertaining to the body type and personal style.
In the new interface, people can also shop with personalized scores even without logging-in. This is a major change from the previous version of the website. Even though, the non-login version of the search engine only provides the basic feature support, it still allows people to try and experience the value of MyShoppingPal.com. To make use of the full power of the personalized search engine, users are recommended to become the members first and then shop. Becoming members also enables shoppers to quickly build their profile and not answer the same questions again and again.
MyShoppingPal.com also automatically learns users preferences as they browse and shop for particular brands, stores, and various product attributes. The engine uses sophisticated clustering algorithms to figure out what they like and what they don't. Users also have the option to upfront train the website about their preferences, and correct the engine if the preferences learned are not correct. This incremental approach of building the profiles for users makes it fun and interesting for people to shop. The great thing about this interface is that as people use it more often, the search results gets personalized and finer tuned to what will work for them. This shopping experience is akin to going to a boutique and a trusted personal shopper is there to help find the best fit/look.
These changes to MyShoppingPal.com have significantly improved the user experience and have enhanced the value of its patent pending personalized rating system. MyShoppingPal.com has partnered with most of the premium online stores to provide access to the largest selection of products to its users in five product categories it supports: clothing, shoes, bags bags, jewelry, and health & beauty. For these categories, MyShoppingPal.com has more products than any other shopping website, including all comparison shopping sites. The biggest inventory of products enables MyShoppingPal.com to find the best items at the best prices for its customers.
Our users are finding MyShoppingPal.com a great tool to shop for friends and family as it helps them find items that will work well for them. With the holiday shopping season coming up, it has become an even more valuable online destination to help them buy gifts for friends and family.
###