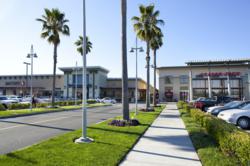 Alameda has an engaged community base and it is clear that its citizens value the center's unique beachfront location and rich history. We listened, we agreed, and we responded.
Alameda, CA (Vocus/PRWEB) June 23, 2011
Jamestown, a leading real estate acquisition and management firm, announced today a comprehensive rebranding and revitalization program for its recently acquired property, Alameda Towne Centre, a 594,000-square-foot, open-air retail center on Alameda Island, Calif. Reflecting the firm's vision for the property, the center will be renamed Alameda South Shore Center, highlighting its South Shore Drive address and paying tribute to the property's history, including its original name. Located on 47 acres fronting the San Francisco Bay, the center opened in 1958 and was known as South Shore Center until 2002.
"Alameda has an engaged community base and it is clear that its citizens value the center's unique beachfront location and rich history. We listened, we agreed, and we responded," said Michael Phillips, Managing Director for Jamestown. "The renaming is just one aspect of a multifaceted effort to recast Alameda South Shore Center as more than a retail store destination, and restore its distinguished history as a gathering place for local and regional patrons."
Capitalizing on the $85 million redevelopment effort the center's former owners initiated in 2002, Jamestown will continue to invest in the project's image and infrastructure, with a primary focus on creating an enhanced customer experience for center guests. Initiatives include developing more welcoming common areas through additional seating and improved lighting; designing, in partnership with center tenants, unique storefront identities and merchandising programs to support an inviting shopping experience; and establishing a comprehensive wayfinding program that incorporates clear, user-friendly directional signs and graphics.
Additionally, in alignment with the firm's portfolio-wide commitment to green buildings and energy efficiency, Jamestown will pioneer a number of sustainability initiatives onsite.
"These enhancements will extend the Bay Area outdoor mall center's appeal as a destination, not only for the residents of Alameda, but also for a significant regional market that includes Oakland and the entire San Francisco Bay area, home to a consumer base of well over seven million residents," stated Phillips.
The restored name and new logo will be official July 4th weekend. The new tagline for Alameda South Shore Center, "Come Shop at the Beach," is a nod to the center's shoreline location as well as its proximity to the former Neptune Beach amusement park, an icon of the 1920s and 1930s. New and ongoing waterfront events will include kite-surfing lessons and demos, sandcastle-building contests, and volleyball tournaments.
Jamestown acquired the 594,000-square-foot center in January 2011 from Harsch Investment Properties for $181 million in what was the largest retail store center transaction in the continental U.S. in the past year.
Jamestown's background with landmark properties includes One Times Square in New York, home to the internationally recognized New Year's Eve ball drop; Chelsea Market, a historic biscuit manufacturing complex redeveloped as a thriving mixed-use gourmet market and office building in New York's Chelsea district; and Pacific Place, a mixed-use project near San Francisco's Union Square.
The firm has an impressive record of substantial investor returns, including the sale of 400 Post Street in San Francisco, a 61,407-square-foot retail property sold at a record price per square foot; 1211 Avenue of the Americas, an iconic office tower in New York that serves as Fox News Corporation headquarters; and 111 Eighth Avenue, a 2.9-million square-foot office building in Manhattan.
Jamestown
Founded in 1983 with headquarters in Atlanta, Ga. and Cologne, Germany and offices in New York City, San Francisco, Ca. and Washington, D.C., Jamestown is a leader in acquisitions and value added management. Over 28 years, Jamestown has generated approximately $8 billion in strategic investments. The company is focused across the risk spectrum with core, core-plus and opportunistic funds in two primary markets: 24-hour cities and Sunbelt territories with strong demographic growth. For more information, visit http://www.jamestownproperties.com.
Alameda South Shore Center
Alameda South Shore Center is an established, 594,000-square-foot open-air shopping center located in the East Bay community of Alameda, Calif. The only major shopping mall on the 23-square-mile island, the recently renovated property is home to a variety of national retailers and restaurants, including Kohl's, Safeway, Trader Joe's, TJ Maxx, Starbucks, Ross, Old Navy, Petco, Payless Shoe Source, Bed Bath & Beyond, Sushi House, Applebee's, Lens Crafters and The Children's Place. The center has maintained its prominence as a thriving retail destination for more than 50 years. For more information, visit http://www.alamedasouthshorecenter.com.
Alameda
The City of Alameda is located on a 23-square-mile island adjacent to Oakland in the San Francisco Bay. The community, home to the 270-acre Harbor Bay Business Park, Alameda College, 205-acre mixed use development Marina Village, is linked to nearby Oakland via three bridges and a tunnel system, and is served by bus and ferry lines for public transportation. Famous for its tree-lined streets and Victorian homes, Alameda was named one of the "100 Best Communities for Young People" by America's Promise Alliance in 2010. For more information on Alameda, visit http://www.cityofalamedaca.gov.
# # #