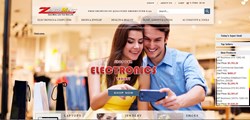 These mobile apps are just one element of the top notch customer experience we are dedicated to deliver.
New York, NY (PRWEB) January 16, 2014
Smart shoppers who want to take advantage of great savings on computers, laptops, jewelry and other products don't have to wait until they get home to enjoy the value ZenithMart delivers. Just in time for the New Year, the company has just rolled out new mobile apps that allow shoppers to take advantage of great deals on all their favorite products anywhere they go.
"We're very excited to offer our customers the ability to shop for electronics, laptops and more on the go," said Tochukwu Mbiamnozie, the founder, president and CEO of Zenith-Mart Inc. "We're committed to delivering an outstanding customer experience and our two new mobile apps help us advance that mission by making it convenient for customers to browse and buy on their mobile devices."
ZenithMart's new mobile apps are available for Android devices on Google Play and for iPods, iPads and other Apple devices via the Apple Store. The apps enable shoppers to easily browse such categories as electronics and computers, shoes and jewelry and health and beauty. They can also quickly navigate to see featured products, new products, top sellers and the day's Super Deal.
"The new apps make it easy for customers to keep up with our ever-growing inventory while enabling them to quickly take advantage of deals and special promotions we may be offering on any given day," Mbiamnozie said. "They also make it a snap for customers to connect with us via social media on Facebook, Twitter and YouTube."
ZenithMart was founded in 2012 and its online retail outlet went live in late 2013 with great success. The store was designed from the ground up to provide customers with a winning alternative to other online retail outlets specializing in such products as laptops, cameras and computers.
Shoppers looking for great deals on electronics, household goods, jewelry, tools and more will discover ZenithMart has the items they're looking for at prices set to please. The company, however, offers shoppers more than just trusted products at highly competitive prices, Mbiamnozie pointed out.
"We're out to deliver the kind of customer service that is often missing in the online world," he said. "These mobile apps are just one element of the top notch customer experience we are dedicated to deliver. While most retailers seek to make fast money through Internet sales, we're out to earn customers for life by making certain service is always a part of the shopping equation."
ZenithMart was built on several founding pillars meant to distinguish the store from others that sell computers and electronics in the online arena. Among those pillars are ZenithMart's commitment to delivering great service, excellent products and value.
About ZenithMart
Founded in April 2012, New York-based ZenithMart provides consumers with a one-stop-shop for office, household and personal merchandise. The company strongly believes in delivering high-quality products, competitive prices and unparalleled customer support. Since its inception, ZenithMart has grown by leaps and bounds thanks to the seamless and convenient customer experience it creates. The company's overriding mission is to provide consumers with the kind of quality and service that earns loyalty for life. For more information, please visit http://www.zenithmart.us.