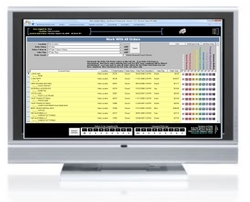 Reno, Nevada (PRWEB) September 16, 2009
NetSoft Studio™ releases a new version of BizWizard BackOffice™ , an order management, order entry and order tracking software solution for the awards and trophy store industry. This new order entry tracking and management software includes key features such as e-mail support, department tracking, marketing support, accounts receivable as well as trophy and awards sales contact management and a robust order entry system.
BizWizard BackOffice is also geared and ready for Windows® 7 and Windows 2008 R2 and has passed Microsoft® Compatibility testing for both operating systems while retaining legacy support for Windows XP, Windows Vista and Windows 2003 Server.
Users of BizWizard BackOffice rave about its features. Richard Hernandez of Trophies, Etc. writes "We've been using BizWizard BackOffice for about two years now and we are extremely pleased with it. It was easy and quick to setup and get going but the true magic is how it has allowed us to do so much more and handle so much more without hiring staff and all the order information past and present is now just a click away!"
BizWizard BackOffice for awards and trophy stores is now available for download from BizWizard BackOffice Download
NetSoft Studio has also released a new version of ShopKart, an online shopping cart software solution also geared towards the awards and trophy shop industries. ShopKart features unlimited web stores and has unique proprietary trophy builder technology built in to support awards store owners on the web. Customers that use ShopKart have noted a significant increase in search engine rankings over other shopping cart solutions. Due to its search engine friendly design, awards store owners can now take advantage of having their own online shopping cart web site without spending thousands of dollars to do so.
With over ten thousands awards and trophy stores in the United States alone, and only a small fraction of those stores having the ability to go online and compete, awards store owners who have gone live with ShopKart are raving about its ease of use and simplicity without sacrificing much needed features. ShopKart received 2nd place in the technology category at its unveiling in 2009 at the ARA Awards and Recognition Association Trade show and is now featured on the ARA Web Site images.
When Asked, Mr. M. David Matney fully expects to achieve first place in the 2010 trade show voted on by users in the awards and trophy industry. A Live demonstration of ShopKart is available at the NetSoft Studio web site at for ShopKart Software Information
About NetSoft Studio:
Founded in 1995, NetSoft Studio has been designing software applications for various industries including the awards and trophy industry with its BizWizard BackOffice and online ShopKart™ applications to new a few. Supporting customers in over 29 countries globally with key target countries of the United States, Canada and Australia. NetSoft Studio partners with Verio®. and Microsoft Corporation to bring its turnkey applications to market. NetSoft Studio is a member of the Awards and Recognition Associate (ARA).
Contact:
M. David Matney, director of public relations
NetSoft Studio
775-996-1343
# # #