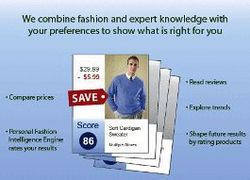 Unbiased recommendations are the cornerstone of our intelligent shopping website. If a fashion product is not right for you, MyShoppingPal.com is very upfront in pointing that out
San Jose, CA (PRWEB) August 16, 2007
MyShoppingPal.com, a subsidiary of Neo Notion, Inc., announced that it has started private beta for its personalized shopping search engine that helps fashion shoppers find what is actually right for them from zillions of choices made possible by the Internet. The shopping website has incorporated the expertise of world's well known fashion experts, gemologists, and cosmetologists into its intelligent shopping engine. In the first release, MyShoppingPal.com's intelligent shopping engine supports clothes, shoes, bags, jewelry, and health & beauty products. The support for other product categories will be added in the future releases.
"When you shop for clothes or shoes, MyShoppingPal.com gives you the feeling that you have celebrity stylist to help you find what looks good on you. When you shop for jewelry, you have gemologists to guide you on the quality and price of the jewelry. When you shop beauty products, you have cosmetologists to analyze the colors and ingredients to find items that will look good on you and suit your skin, hair, etc.," says MyShoppingPal.com's founder Dileep Panjwani.
The core strength of MyShoppingPal.com's technology is its patent pending personalized rating system, which it calls FAP scoring system, where FAP stands for Fashion, Attractiveness, and Preferences. This innovative rating system combines the fashion and expert knowledge with the style and preferences of shoppers to rate the suitability of fashion products for them. For example, if you are buying clothes, the FAP rating system will assign higher scores to the clothes that look good on you, while lower scores to the clothes that don't suit you. Shoppers can also continuously train MyShoppingPal.com's shopping engine about what they like and what they don't to further personalize the search results.
"We say that a fashion product is right for you if it looks good on you by complementing your body type, qualifies the goodness criteria set by experts, matches with your fashion style, and goes well with your preferences," says Mr. Panjwani. The site also presents the detailed analysis with both positive and negative points that goes behind in getting to the FAP score of a fashion product. "Unbiased recommendations are the cornerstone of our intelligent shopping website. If a fashion product is not right for you, MyShoppingPal.com is very upfront in pointing that out," says Mr. Panjwani.
Initially, the online shopping was limited to computers and electronics items, but over the last few years a new change has taken its roots. According to the State of Retailing Online 2007 report, the apparel category reached $18.3 billion in 2006, and it was the first time it surpassed the money spent on Computers or Electronics. Even though the online sales of apparel and other fashion goods such as health & beauty products are rising, they are still only 2% of the total sales, and their return rates are as high as 14%, which is twice compared to other products. In a survey which MyShopPal.com conducted recently, the majority of retail consumers said that they would prefer to have some idea about how well a fashion product worked for them before buying it online.
MyShoppingPal.com addresses exactly this problem of suitability for fashion products with its intelligent shopping engine. The release of MyShoppingPal.com marks the beginning of the innovations that are going to drive the growth of online retailing. This intelligent shopping website provides online fashion shoppers an experience similar to what they get when they walk into a high end boutique and trusted personal shoppers are there to help them find what is right for them.
###