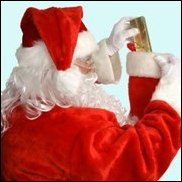 The Apple Nano is a no-no if you want the truly smallest MP3 player.
Sunnyvale, Calif. (PRWEB) December 12, 2006
Retrevo's Shopping Research Team today released its list of the top five tiny tech gifts sure to fit in even the most diminutive stockings. The top five tiny tech gifts were culled from Retrevo's twelve consumer electronics search categories: cell phones, smartphones, cameras, camcorders, home audio and home video, portable audio and portable video, printers and wireless networking (WiFi). Retrevo provides a dedicated search engine for one-stop consumer electronics shopping, research and support. Retrevo also recently added a new feature, Retrevo's Daily Deal - a search tool for shoppers to find the best Internet-only deals on consumer electronics products.
Gadgets for stuffing for the tiniest stockings; five tiny tech gifts from Retrevo's Shopping Research Team:
The smallest portable digital video player
"Load up the LOTR Trilogy and sneak a peak while you're waiting in the 'return' line the day after Christmas."
The smallest surround sound home theater speaker set up
"Do I hear sleigh bells? Oh, just the tiny all-in-one Sharp SD SP10 virtual surround speaker."
The smallest tri-band GSM cellphone
"This is perfect weekend phone - buy one unlocked so you can pop the GSM card out of your bulky smartphone and into this tiny talker."
The smallest mp3 digital music player
"The Apple Nano is a no-no if you want the truly smallest MP3 player."
"It wouldn't be smart to make one any smaller."
Retrevo uses proprietary algorithms to crawl, collect, analyze and classify all known information for consumer electronics products. The company's machine learning technology performs deep content analysis, classification and retrieval, so you get the right answers right away.
About Retrevo
Retrevo is an early stage startup backed by Alloy Ventures and based in Sunnyvale, CA. It is the first of its kind in the field of vertical search and deep content retrieval. Currently offering a public trial, retrevo.com is a destination for consumers to research, install, use, or fix their electronic products.
For more information contact:
Matthew Stotts
matthew -at- retrevo -dot- com
Phone # 408-524-1592
###