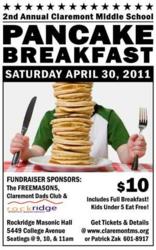 The Claremont Middle School Pancake Breakfast pulls the community together—it raises a lot of money for a great cause
Oakland, CA (Vocus/PRWEB) April 27, 2011
Rockridge District Association, a Business Improvement District (BID) that works to enhance the East Bay shopping district and community, is putting on a pancake breakfast to benefit Claremont Middle School on April 30 at the Rockridge Masonic Hall located at 5449 College Avenue in Oakland.
Breakfast will be served in three seatings at 9, 10, and 11 am. This is the second year the benefit has been held. Last year the event raised $4,000, and this year they hope to raise $5,000. The Freemasons, a co-sponsor of the event, originally thought up the idea in honor of School Month, which is the month of April.
"The Claremont Middle School Pancake Breakfast pulls the community together—it raises a lot of money for a great cause," said Chris Jackson, operations manager at Rockridge District Association. "It also is a great opportunity for people to get out and participate in their community and learn about the Freemasons."
Claremont Middle School opened in the Rockridge neighborhood nearly 100 years ago. Its long legacy made is a noble benefactor of the fundraiser. Ticket prices are $10 each and entitles the purchaser to a full breakfast. Kids under 5 eat for free.
The Rockridge District Association also helps enhance the East Bay shopping Mecca
For more information about the pancake breakfast call Patrick Zak at (510) 601-8917 or visit the website on the web: http://www.claremontms.org. For more information about the Rockridge District Association, visit their website: http://www.rockridgedistrict.com.
About Rockridge District Association
The Rockridge District Association, a Business Improvement District (BID), is dedicated to enhancing Rockridge through public works as well as promotional and beautification initiatives to make a strong, vibrant, diverse business center.
Rockridge, Oakland's leading district in retail sales, is located along pedestrian-friendly College Avenue. Lined with trees, inviting storefronts, cafes and restaurants, the district combines urban sophistication with a relaxed paced. Rockridge boasts a concentration of eclectic, independently owned retail stores, restaurants and art galleries in the East Bay, which makes it a desirable destination for visitors and neighbors alike.
###