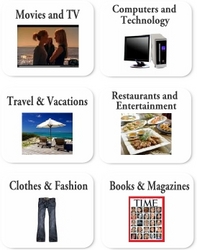 We look forward to helping our 5G Members save more money when shopping online in addition to the free financial advice we provide within the 5G Savings Plan. It's fun adding value to their lives.
Colorado Springs, CO (PRWEB) May 18, 2010
Financial Secrets 101 launched their new "Shopping 101" section on May 12th, 2010! 5G members now have access to a whole library of money saving tips when it comes to shopping online. Everyone loves getting the best value when they shop, and FinancialSecrets101.com has proactively made it easier to find that value and maximize every dollar a shopper has.
The Shopping 101 section contains links, ratings, and descriptions of different websites where online shoppers can find better deals on things like travel, books, computers, clothing, movies, and other entertainment purchases. There is even a page with a whole list of promo codes and coupons, and some of the links show members where to get certain things for free!
It's easy to navigate through the various categories and money saving tips. Each tip is rated between 1 and 5 stars. The rating is determined by the 5G Team who researches every website before it is published. If the 5G Team does not rate the link above 3 stars, it is not published in the Shopping 101 section.
Shopping 101 is located within a member's 5G Account. Therefore, in order to view it, a user must first become a member and then login to their account. Griff Hanning, the owner and founder of FinancialSecrets101.com designed it this way so that only people who are serious about saving money and getting more value out of their purchases will use it. "If it were open to the public, we would get a lot of spammers in the "comments" section and it would lessen the value of the service we provide along with the 5G Plan," says Griff.
Members are allowed to post comments to each category in order to share websites and other money saving tips with the rest of the 5G community. Griff's team scans each comment posted and determines if it's worth publishing. "If a member shares a particularly useful website, it might be added to one of the shopping categories," says Griff, "...that's the power of having a community of money saving enthusiasts come together to help each other find better value."
The 5G Plan is a customized online savings plan, which is the meat and bones of FinancialSecrets101.com, and Shopping 101 is simply an added bonus to the already information-rich application. The best part about the whole package is that it's free to join. Griff hopes that every member will find at least one bit of advice to help them on their journey towards financial freedom.
For all of the online shoppers looking for value-adding money saving tips, Shopping 101 may be a great place to start.
###