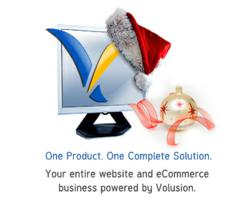 Austin, Texas (PRWEB) October 10, 2007
After analysis of previous years' holiday sales figures, Volusion Inc., a leading provider of eCommerce solutions, predicts that the biggest shopping day of the year will break the typical pattern seen in most years this decade.
From 2000 to 2005, the biggest online spending day of the year fell on a Monday. Shoppers tend to spend time browsing in stores on the weekends and then buy gifts online when they return to work, where they usually have the fastest internet connections. This pattern held true in 2006 as well when on Monday, December 11th, consumers spent $556 million online. This was the biggest online shopping day in history. That was of course until Wednesday, December 13th, when consumers spent a whopping $667 million.
The biggest online spending day will be Wednesday, December 12th, 2007. The Monday halfway between Thanksgiving and Christmas has been biggest spending day of the year every year this decade with the sole exception of 2006. Like 2006, this Monday falls on a very early date in 2007--December 10th, to be exact. Merchants will be pushing their free and discounted shipping promotions that won't end until the 17th or 18th, and consumers will respond to these later promotions by waiting to purchase on Tuesday and Wednesday instead of Monday. This was the case last year and will continue to be the case this year.
With more people online than ever, ecommerce retail sales will certainly break records this holiday season. Expect sales to exceed $750 million on December 12th, 2007.
About Volusion:
Since 1999, Volusion has offered their clients award winning eCommerce solutions, website design, SSL and search marketing services. The newest version, Version 5.0, proves to increase sales and usability with an advanced One-Page Checkout, plus advanced Google Checkout, Quickbooks and XML integration. Its faster admin interface offers a broad array of essential built-in business and marketing functions in one customizable shopping cart software, including Analytics, Reporting & ROI Features, Built-In CRM, Phone Order & POS System, Automated Drop Shipping, 5-Tier Affiliate System, Import/Export functionality. Every ecommerce solution comes with free 24x7 support as well as upgrades.
With offices in Simi Valley, CA and Austin, TX, Volusion can be reached online at http://www.Volusion.com.
###