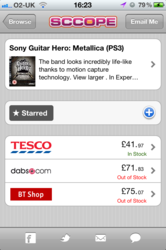 We aim to help mobile commerce industry evolve by connecting online retailers with mobile consumers and to make Sccope shopping app as beneficial to the end-user as possible
Windsor, Berkshire, UK (PRWEB UK) 27 April 2012
Cogenta, the developer of Sccope, would like to introduce the 'Email Me' feature that was added to their personal shopping app for iOS platform. The new feature will enhance your mobile shopping experience increasing Sccope's functionality on iPhone handsets.
'Email Me' feature within Sccope app for iPhone sends an email with your chosen product details to your registered mailbox. Hence 'Email Me' allows you to retain the details of a product you would like to buy without the frustration caused by complicated website navigation via mobile or loss of wireless connectivity.
The 'Email Me' tab becomes active once you register your email address on Sccope. It is then a real breeze to use 'Email Me' as it only takes one tap. The 'Email Me' tab remains active even if your smartphone or other mobile device lost its 3G or Wi Fi connectivity. The email with the product details will land in your inbox regardless.
'Email Me' functionality was developed to help online consumers and businesses alike. It is evident from the research in the field of mobile commerce that brands and retailers are losing sales due to slow adoption of mobile web optimization and current wireless connectivity disruptions. 'Email Me' is a solution to these digital commerce issues as it enables smartphone users to keep track of products they are interested in buying and still purchase the items.
Cogenta's CEO, Adrian Hobbs, commented on the decision to add 'Email Me' feature to the Sccope personal shopping app for iPhone: "We aim to help mobile commerce industry evolve by connecting online retailers with mobile consumers and to make Sccope shopping app as beneficial to the end-user as possible".
To download the free Sccope app, go to iTunes Appstore: http://bit.ly/8UVDjf
Notes to editors:
Sccope is a free personal shopping app available via iPod Touch, iPhone, BlackBerry and Android smartphones. Available both in the UK and the US, Sccope enables users find the best prices from top retailers which results in great savings.
Sccope has an integrated barcode scanner, which is invaluable to millions of smartphone users on the go. Prices can also be compared by browsing a wide range of products or searching for a desired item by product code, brand or name. The app has integrated mobile coupons that bring latest deals and discounts from multiple retailers.
Other Sccope features include:

Price and stock alerts for product tracking;
Wish lists to organise tracked products;
Social sharing via Facebook, Twitter, Email and SMS.
Cogenta maintains a unique view of the UK's retail market by providing in-depth coverage of top high street [multi-channel] retailers and online to ensure the experience is relevant to people wherever they shop. Cogenta achieves this by providing retail intelligence based on monitoring the UK retail market and tracking consumer behaviour. As a developer of mobile shopping and communication platforms for brands and retailers, Cogenta enables these businesses to communicate and target new audiences via mobile.