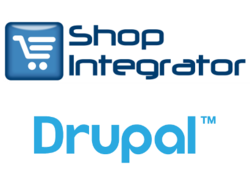 Adding to Drupal's impressive list of over 19,000 add-on modules is the ShopIntegrator Ecommerce Drupal Module
Harpenden, UK (PRWEB) November 22, 2012
The recently developed Drupal ShopIntegrator ecommerce add-on module means the Drupal Community can easily integrate with ShopIntegrator's hosted, secure shopping cart software.
ShopIntegrator is a cost effective, PCI compliant shopping cart service. It is the perfect ecommerce solution for small to medium sized businesses selling both physical products and digital downloads such as eBooks, audio tracks and multi-media software. Mobile and tablet friendly, ShopIntegrator turns any website into an online store in moments. HTML sites and content management systems, including Drupal's open source content management framework, benefit from a quick and simple way to add a wide range of ecommerce buttons and ecommerce widgets to their websites.
Founded as a simple message board in 1999 by Dries Buytaert, Drupal's free software package is now an open source, collaborative content management framework powering millions of websites -from small individual blogs, to large government sites such as the Whitehouse. Drupal's success is down to its highly active global community of over 900,000 users and contributors speaking over 181 languages. "This open development model means that people are constantly working to make sure Drupal is a cutting edge platform that supports the latest technologies that the web has to offer" (Drupal.org)
The Drupal Community independently review and develop new modules that extend the Drupal Core. This extensive list of modules ensures that Drupal can be endlessly customised to reflect the very latest technologies suiting individual business requirements. Contributing to these latest technologies and adding to Drupal's impressive list of over 19,000 add-on modules is the ShopIntegrator Drupal Ecommerce Module.
This new Drupal shopping basket module means that Drupal users now have a simplified integration route by which they can download and install ShopIntegrator's McAfee secure ecommerce solution. ShopIntegrator's extensive list of ecommerce features includes shipping cost calculators, real time product and stock control, customer order management, multiple currency pricing, tax calculators, discount codes and special offers.
Drupal users selling digital downloads benefit from ShopIntegrator's digital download cart which securely stores files and automatically handles the delivery of purchased files to customers. Purchasers can have immediate access to their digital downloads – avoiding any spam risks associated with email links. ShopIntegrator connects with a number of leading Payment Processors including CardSave, eWAY, PayPal and Sage Pay as well as offering offline payment options like Pay by Bank Transfer and Pay Offline (Pay Offline allows sellers to specify particular instructions such as pay on delivery, pay on collection, pay by phone or pay by cheque.)
The ShopIntegrator Drupal shopping cart module can be simply downloaded and installed from the Drupal website. Enabling the Drupal Community to benefit from ShopIntegrator's feature rich shopping basket software.
To find out more about ShopIntegrator's free no obligation trial visit ShopIntegrator.
Established in 2004, ShopIntegrator provides SMEs with secure, easy-to-use hosted shopping cart software. ShopIntegrator's competitive pricing and straightforward installation process allows merchants to turn their website into an online store within a matter of minutes. McAfee Secure and PCI compliant, ShopIntegrator's shopping cart is compatible with most websites so there is no need to change web hosting companies.
ShopIntegrator is a powerful e-commerce and m-commerce checkout. There is no software to install and its uncomplicated, no cost set-up requires little technical knowledge and can be added into HTML website templates or DIY site builders such as Weebly, Moonfruit, Yola, 1&1 MyWebsite. ShopIntegrator also has dedicated plug-ins to simplify adding ecommerce into popular Content Management Systems (CMS) such as WordPress and DotNetNuke (DNN).