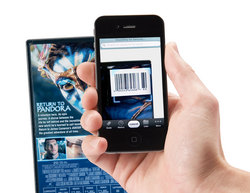 In a typical month, ShopSavvy users conduct between 30 and 50 million scans; this month, we expect that to be closer to 120 million scans, with more than half of those coming over Black Friday weekend.
Dallas, TX (Vocus) November 11, 2010
In the first 10 days of the holiday shopping season, ShopSavvy users performed 16 million product scans with ShopSavvy's built-in barcode reader, with nearly a third of the smartphone app's 6.5 million users scanning at least one item from Nov. 1-10. This is more than three times the number of scans conducted in the same period in 2009. The data offers a compelling sneak peek at holiday shopping trends for 2010.
"In a typical month, ShopSavvy users conduct between 30 and 50 million scans; this month, we expect that to be closer to 120 million scans, with more than half of those coming over Black Friday weekend," said Alexander Muse, co-creator of ShopSavvy, the comparison shopping app for iPhone, Android and Nokia smartphone users. "This represents a mountain of data of value to retailers, advertisers and the shopping public."
Based on ShopSavvy user data, the most-scanned products in the top holiday gift categories from Nov. 1-10 were the following:
Toys
1. Uncle Milton's Moon In My Room
2. Squinkies Bubble Pack – Series One
3. Fushigi Magic Gravity Ball
4. LEGO Harry Potter Hagrid's Hut
5. The Sing-a-ma-jigs Set of 4 Singing Plush Figures
Books
1. "Life" by Keith Richards
2. "Diary of a Wimpy Kid: The Ugly Truth" by Jeff Kinney
3. "Decision Points" by George W. Bush
4. "The Girl Who Kicked the Hornet's Nest" by Stieg Larsson
5. "Full Dark, No Stars" by Stephen King
DVDs
1. "Toy Story 3"
2. "How to Train Your Dragon"
3. "Iron Man 2"
4. "Sex and the City 2"
5. "Modern Family: The Complete First Season"
Video Games
1. "Call of Duty: Black Ops"
2. "StarCraft II"
3. "Halo: Reach"
4. "NBA 2K11"
5. "GoldenEye 007"
Consumer Electronics
1. LG Blu-ray Disc Player
2. Vizio 55-inch 1080p LCD HDTV
3. Canon Pixma Wireless Printer
4. Apple TV
5. Roku XD Streaming Player
ShopSavvy's 6.5 million users are expected to conduct more than 200 million scans between now and Christmas, Muse said.
Last week, ShopSavvy released ShopSavvy 4 for iPhone, offering an array of new features to make holiday shopping easier for smartphone users. The new consumer-friendly functionality includes:

Price-matching policies. ShopSavvy tells you whether a retailer will match a competitor's lower price based on ShopSavvy results.
Up-to-date inventory information. A blue dot by a retailer's name on the price results pages tells you whether an item is currently in stock.
Streaming deals. ShopSavvy offers a Twitter-like stream of special deals and short-term promotions aggregated from sources across the Web, as well as exclusive deals for ShopSavvy users.
"ShopSavvy is all about arming consumers with information to save them money. During the busy holiday shopping season, ShopSavvy 4 offers new features that enable consumers to save valuable time as well. They can do their research and comparison shopping in the time it takes to scan a product," Muse said.
Note to Members of the Media:
To attain ShopSavvy usage statistics for specific MSAs, product categories or retailers, please contact Rachel Hedstrom at 972.365.7741.
To download broadcast-quality video and audio related to this story, please visit our digital newsroom page at http://www.digitalnewsrelease.com/?q=shopsavvy_v4.
About ShopSavvy
ShopSavvy, developed by Dallas-based Big in Japan, is a personal shopping companion for smartphone users. The application enables consumers to scan the UPC, EAN or QR barcodes of products they want to buy and do immediate, in-store price comparisons with local and online retailers. ShopSavvy has emerged as one of the most celebrated and widely embraced shopping apps for Android, the iPhone, and Nokia smartphones, with more than 6.5 million ShopSavvy users performing 50 million scans monthly. ShopSavvy's price comparison engine includes up-to-date pricing and inventory information from more than 20,000 retailers worldwide, covering more than 20 million products. For more information, visit http://www.shopsavvy.mobi.
###