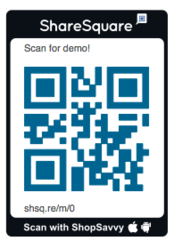 ShopSavvy launched the 'Scan with ShopSavvy' program last year to encourage retailers to incorporate QR codes in their marketing efforts.
Dallas, TX and Los Angeles, CA (PRWEB) May 25, 2011
ShopSavvy, the leading mobile shopping assistant, and ShareSquare, the leading self-serve QR marketing campaign platform, announced today that they have joined forces to offer the optimum QR code experience for marketers and consumers alike.
As part of the agreement, ShopSavvy will recommend ShareSquare as its QR code campaign creation, content management, and deep engagement analytics tool of choice for participants in the popular "Scan with ShopSavvy" program.
"Many marketers have experimented with QR codes only to make mistakes that have undermined or crippled their campaigns," said Alexander Muse, co-founder and CEO of ShopSavvy. "ShareSquare removes the guesswork and enables agencies and brands to deploy a mobile-optimized experience tailored to their campaign objectives."
ShareSquare offers an intuitive self-serve CMS that empowers the marketer to craft an effective QR code campaign in minutes. Following initial successes in music and entertainment, the ShareSquare platform is now driving offline-to-online audience engagement in retail, consumer packaged goods, brand advertising, non-profit, and more. By capturing the consumer's interest with rich media, special offers and contests, the ShareSquare QR code can convert into a captured email address, Facebook Like, and soon, immediate purchases.
ShareSquare QR codes now prominently promote the "Scan with ShopSavvy" program and are optimized for the ShopSavvy app.
ShareSquare CEO Matthias Galica said, "We're thrilled to be able to recommend a single barcode scanning app across virtually every device: iPhone, Android, Windows Phone 7, you name it. With 18 million downloads, ShopSavvy has emerged as the top barcode scanning application bar none, whether that's UPC or QR Codes."
ShopSavvy launched the "Scan with ShopSavvy" program last year to encourage retailers to incorporate QR codes in their marketing efforts. Through the program, brands overlay a badge on their QR codes to alert ShopSavvy's installed base that they will find helpful product information by scanning the code. Brands such as Ford, Gold's Gym, Lexmark and the Washington Metro have participated in the program.
"We believe QR Codes have great potential in the United States and worldwide, and we are actively working with retailers, brands and partners to leverage this technology in creative ways," Muse said.
About ShopSavvy
ShopSavvy is the leading mobile shopping assistant, with 17.9 million downloads and 9.3 million active users as of April 2011. ShopSavvy empowers smartphone users to quickly and seamlessly locate, research and buy products at the point of sale. When users scan a barcode or input a product name, they discover where the item is sold locally and online, where it's in stock and at what price. ShopSavvy aggregates product data, deals, ratings and reviews from retailers, partners and its own users to provide the most comprehensive source of information and advice for mobile shoppers anywhere. For advertisers, ShopSavvy delivers "hyper-relevant" deals, promotions, warranty offers, and other UPC/GPS-targeted content to consumers. For more information, visit http://shopsavvy.mobi.
About ShareSquare
ShareSquare is a platform for connecting offline audiences to the bands and brands they love, via immediate calls-to-action & rich engagement on mobile, with real-time analytics. Using the self-serve CMS, marketers can enhance their promotions with a QR code corresponding to a custom HTML5 mobile web app. This makes a consumer's interest actionable: posters, stickers, packaging, t-shirts, and even billboards become gateways to video, music, contests, social media & more. For more information, visit http://getsharesquare.com.
###