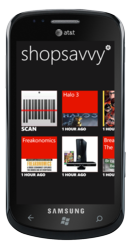 We expect mobile users who embrace Windows Phone 7.5 to have a lot of fun shopping with ShopSavvy in hand.
Dallas, TX (PRWEB) October 18, 2011
ShopSavvy, the leading mobile shopping assistant, today announced a new, feature-rich release of ShopSavvy for Windows Phone, designed to fully leverage the enhancements in the Windows Phone 7.5 "Mango" update.
ShopSavvy, the top shopping app on the iPhone and Android platforms with more than 20 million downloads, was initially released for Windows Phone in December 2010 and has been one of the most popular apps in the Windows Phone Marketplace ever since.
"The new release of ShopSavvy fully exploits the Metro UI and the improvements in Mango to create a fluid, enjoyable and efficient experience for users," said Matthias Shapiro, ShopSavvy's lead developer for Windows Phone. "We expect mobile users who embrace Windows Phone 7.5 to have a lot of fun shopping with ShopSavvy in hand."
New features in ShopSavvy for Windows Phone include:

Faster scanning of UPC and QR Codes (now live in-app);
Hundreds of deals from retailers including Wal-Mart, Target, Best Buy and more;
Integration with Bing Vision, enabling users to scan a product with Bing and get results from ShopSavvy's unmatched database of 20 million products and tens of thousands of retailers;
New social features such as the ability to see nearby scans by ShopSavvy users close to you;
Users can turn their home page into a shopping list by pinning their favorite products to the home screen to instantly see the lowest prices.
The latest release of Windows Phone boasts hundreds of improvements and new features, including custom ringtones, visual voicemail and new speech commands that let users text and search the Web hands-free. Other changes improve the functionality of e-mail, social networking features, games, apps, browsing, the camera and more.
Microsoft has called it the "largest and most feature-packed software refresh to date." It was made available starting Sept. 27, with most customers expected to see their update message over the following several weeks.
Download ShopSavvy in Windows Phone Marketplace at http://bit.ly/shopsavvymango.
About ShopSavvy
ShopSavvy is the leading mobile shopping assistant, with more than 20 million downloads and 11 million current unique users. ShopSavvy empowers smartphone users to quickly and seamlessly locate, research and buy products at the point of sale. When users scan a barcode or input a product name, they discover where the item is sold locally and online, where it's in stock and at what price. ShopSavvy aggregates product data, deals, ratings and reviews from retailers, partners and its own users to provide the most comprehensive source of information and advice for mobile shoppers anywhere. For advertisers, ShopSavvy delivers "hyper-relevant" deals, promotions, warranty offers, and other UPC/GPS-targeted content to consumers. For more information, visit http://shopsavvy.com.
# # #