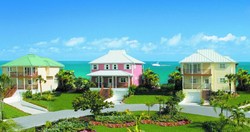 Shoreline offers all the conveniences of living in the United States--a clubhouse, pools, excellent roads and easy access to shopping, nightlife, fine dining and even top-quality medical care--as well as advantages not available in the United States
Grand Bahama Island, The Bahamas (PRWEB) October 2, 2007
Americans living in the Bahamas is the new trend. South Florida residents Jerry Spiro and Jane Guadagnino, who recently purchased a three-bedroom beachfront home at Shoreline, a single-family home planned community on Grand Bahama Island, are just the latest Americans who have discovered the benefits of living in the Bahamas. The couple will be selling their 2,700-square-foot, canal-front home in Lighthouse Point to become permanent residents at Shoreline.
Ideally located on 26 lush acres just 50 miles off the coast of Florida, Shoreline is a master-planned community with single-family homes ranging in price from $800,000 to just under $2 million. Just minutes from the international airport, Port Lucaya marina, world-class dining, duty-free shopping, nightlife and recreation, Shoreline is the ideal destination for a second or third oceanfront home.
"Shoreline offers all the conveniences of living in the United States--a clubhouse, pools, excellent roads and easy access to shopping, nightlife, fine dining and even top-quality medical care--as well as advantages not available in the United States," said Keith Jervis, Shoreline's developer. "Plus, we build our homes to the highest levels of quality and finish, not to mention that our homes meet all hurricane code requirements."
Perhaps the biggest advantage is affordability, making it easy to see why vacation-home buyers are flocking to Grand Bahama Island. Beachfront property on Grand Bahama Island is a fraction of the cost compared to similar luxury beachfront real estate in the United States. For second-home buyers from the U.S., Grand Bahama also offers easy access by boat or plane.
"The Bahamas is as popular as ever for Americans to buy real estate here," according to Jonathan Morris, an estate agent with Damianos Sotheby's International Realty in The Bahamas. "We are English-speaking, with English common law, similar customs and shared values, a long history of stable government, and within close proximity to the U.S. Add in the beautiful weather, friendly people, excellent fishing, gorgeous beaches, onshore activities and unique island lifestyle that is reminiscent of the Florida Keys in years gone by."
Shoreline, in its final selling phase with just 15 homes available, provides a combination of laid-back Bahamian living coupled with modern comforts and security. The gated community offers amenities such as a clubhouse with fitness center, poolside bar, seven pools and a private beach. Homebuyers can choose from 10 different floor plans of Bahamian-style layouts ranging from 2,610 to 4,560 square feet.
"We work with our buyers to add any unique touches they may want in their home," said Jervis. "We're willing to work side by side with the buyer every step of the way to ensure that their new island home captures everything their heart desires."
While easy access to a hospital was important for Spiro and Guadagnino, other Americans are attracted to The Bahamas because of its tax-free status: there are no taxes levied on personal income, capital gains, corporate earnings, sales, inheritance or dividends. Just 50 miles from the world's largest economy, Grand Bahama Island is also close to major North American and Latin American financial centers and in the same time zone as New York and Toronto. With an English-speaking workforce, highly trained professionals and a peaceful and stable democracy since 1729, Grand Bahama also offers residents an ideal climate and lifestyle with many islands and cays to explore.
"We invite Americans to visit Shoreline and learn what Grand Bahama Island has to offer," said Jervis. "Once people grasp the beauty, luxury, conveniences and advantages of Shoreline's location, it's easy to see why so many visitors make the decision to purchase."
For more information about Shoreline, call 866-259-6004 or visit http://www.shorelinebahamas.com
About the Developer
Bahamas based KST Investments Group is an experienced builder of custom luxury homes. Founded in 1998, KST Group has successfully developed Shoreline Grand Bahama Island, a private enclave consisting of 76 homes and is currently working on its next project, Pole Creek Estates Golf Club in Winter Park, Colorado
As a local developer and builder, KST Group is thoroughly versed in Bahamian building codes and customs. Despite Grand Bahama Island's small population, KST has been able to successfully recruit, train and retain the most experienced and skilled workers for the construction of the multi-million dollar homes that bear the company's name. Every home is built to suit the most discerning buyer, using only the highest quality materials and finishes, and meets stringent hurricane codes.
###