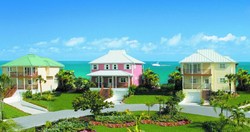 Grand Bahama, Bahamas (PRWEB) January 16, 2008
According to a study by the National Association of Realtors, nearly 40 percent of all recent home purchases were second home investments.
With the recent slump in United States real estate, many second homebuyers are looking for better values in international markets such as Grand Bahama real estate.
One community, Shoreline on Grand Bahama Island, has 64 happy homeowners and just 12 more homes left to sell. Grand Bahama real estate has quickly become a favorite for second home buyers looking for premier oceanfront property.
What's the attraction?
Value.
Sense of Community.
Location.
Quality Construction.
When asking current residents why they invested in Shoreline, buyers were enthusiastic and genuinely satisfied with their buying experiences.
"For many years we had been looking for a second home to enjoy year round sunshine. After a lot of research, we decided Grand Bahama Island was the ideal location. When we arrived at Shoreline we discovered our own heaven on earth. Not only were we sold on its pristine beach location, intimate size, and quality of housing, most of all we committed because of the developer's enthusiasm and commitment to the property. The professionalism and understanding of our needs were second to none."
The Rose Family
"We had a long wish list to fulfill. We wanted to build an elegant family home in a well-run, gated community located on a long, clean sandy beach with lovely gardens and swimming pools, a club house in order to meet and get to know fellow residents, nearby supermarkets, plus upscale wine and grocery shopping. We needed high-quality hospital services nearby, a variety of local restaurants, sporting facilities to include golf, tennis, fishing, sailing, scuba and the potential to ride a horse - and somewhere for the parents to play bridge!
We investigated different developments in several countries and nothing even came close to our requirements until we visited Shoreline. Our visit was delightful; we stayed in Shoreline's lovely guest home and made our decision to purchase on the second day of our visit.
Shoreline was very accommodating, making our purchase decision completely seamless. They put us in touch with an interior decorator, an insurance company for automotive and medial policies, and their property management service."
The O'Hara Family
"Individually designed homes completed in six to nine months, was the first aspect that drew us to Shoreline. Next, its location on a lovely, private beach and the specific attention to the landscaping gave us a good idea that this is where we wanted to be. After taking up permanent residence for almost three years now, we are pleased to say our time here has been both exciting and satisfying."
The Franklin Family
About Shoreline
Grand Bahama Island's Shoreline at Fortune Beach is a 26-acre, master-planned and gated community with single-family homes under $2 million. Homebuyers choose from ten different floor plans of Bahamian-style layouts ranging from 2,610 to 4,560-square-feet.
Once purchased, each home is constructed in the desired layout with architectural delights such as volume ceilings and balustrade balconies, using a variety of marble, stone and granite. Modern luxuries are available such as high-speed Internet, seven swimming pools, including an infinity-edge pool with adjacent hot tub, waterfall, and barbeque, as well as tennis, and basketball courts. Shoreline residents also enjoy lush landscaping with natural tropical plants and lakes.
For more information about Shoreline's luxury Bahamian residences visit http://www.ShorelineBahamas.com or call Kelly, 954-205-9339.
###