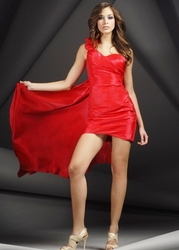 New York, NY (Vocus) June 16, 2010
Don't sweat it. Cool off this summer with a leg-barring style from Jovani's newest collection of designer dresses. This summer is all about sleek metallic colors and vibrant floral prints, and Jovani's eye-catching short dress and homecoming styles is sure to make any girl stand out as this season's acclaimed fashionista.
Spice up this season's wardrobe with bold statement pieces, featuring vibrant colors, exotic prints and lots of trend details. Traditionally, black has always been a favorite for elegant gowns and evening dresses. But like all fashion fads and trends, style is part of a constantly evolving movement that no one understands better than Jovani. Now more than ever, women and girls are choosing to wear short dresses to formal occasions and black-tie events.
Jovani's wide-ranging collection of short dresses and cocktail minis are distinctively designed to satisfy all fashion senses and figures. Summer style is all about looking effortlessly chic with fresh styles that include flowy wire-hem skirts, plush prints and intricate necklines. Go hippie-chic by pairing any of Jovani's floral print dresses or refined styles with ultra girlish and oversized accessories. Stay understated and classic with neutral colors and basic necklines. Don't be afraid to play around with different styles. Recreate a favorite celebrity style or simply mix and match to create an individual look.
Each Jovani style is versatile and can be reworked to fit any occasion. Glam it up when the occasion calls for formal, or keep it subdued with minimal accessories. Don't worry about re-wearing the same dress to a different event. Take a simple short dress or even last year's homecoming dress and style it differently for a whole new look—one that will have people admiring for days.
More so than any other designer, Jovani recognizes the importance of creating classic styles that are mixed with the right trend details for a fashion-forward look that won't go out of style. From prom dresses, to homecoming styles and designer short dresses, make a lifetime investment with every Jovani addition to the closet.
Contact a Jovani retailer today to find that cool summer style, and don't forget homecoming is right around the corner. It's never too early to start planning.
Company
As a top designer in women's eveningwear, offering an extensive collection of short dresses, homecoming gowns, prom styles and red-carpet couture, Jovani is the one-stop fashion house for all formalwear needs. Made from the most luxurious fabrics, each garment features meticulous details and one-of-a-kind designs. No other brand compares when it comes to creating formal and chic styles for the everyday fashionista. Jovani Fashions is also an internationally recognized brand that can be seen on the likes of A-list celebrities and is featured on the cover spreads of high fashion magazines.
Contact: Lianne Gourji
Phone: (212) 279-0222 Ext. 111
# # #