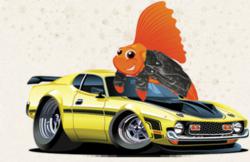 Homeowners whose houses have gone to short sale are being punished for five years longer than they should, and that seems horribly unjust.
Miami, FL (PRWEB) April 24, 2013
RoadFish.com men's lifestyle and finance magazine today expressed their criticism for the way short sales are coded on credit reports, making them appear the same as foreclosures in the eyes of lenders. After a Miami Times article brought the topic to light, RoadFish.com explored ramifications of the system's flaw and gave recommendations to short sellers on what they might do to prevent it appearing as though their home had been foreclosed upon.
Drew Harwell of the Miami Times recently reported of a so-called "quirk" in credit reporting, wherein there is no code for banks and credit bureaus to distinguish when a home goes to short sale. As such, it appears the same way a home that went to foreclosure would on a credit report. Harwell reports that without a clear distinction, foreclosed-upon-homeowners and short-sale-homeowners are grouped into the same category since the two look identical on credit reports.
RoadFish.com was outraged to hear of the strange nuance in the system. RoadFish.com's Senior staff writer is quoted as saying, "It's simply not fair for people who have taken the time and energy to sell their house as opposed to those who simply got foreclosed on to be grouped together. I have empathy for both situations, believe me, but the fact is that there needs to be some sort of differentiation. Homeowners whose houses have gone to short sale are being punished for five years longer than they should, and that seems horribly unjust. If they've taken the precautions to make sure their credit score hasn't been completely wrecked, their efforts should at least be acknowledged if not rewarded."
The above-mentioned Miami Times article states that the repercussions of foreclosures and short sales appearing the same when it comes to credit is a big issue for the homeowner. The main difference is that homeowners who've been foreclosed on must wait a full seven years before being able to qualify for a loan or in many cases even a credit card, while homeowners whose houses have been short sold need only wait two. Harwell states that without proper distinction, short sale owners end up being made to wait the seven years even though they should rightfully only need to wait two.
RoadFish.com's call of action is to the Consumer Data Industry Association, the developers of the credit reporting system, to develop a code that will clearly distinguish short sales from foreclosures. For now, RoadFish.com recommends short-term solutions for short sellers. RoadFish.com's Senior staff writer is quoted as saying, "It sounds like imploring banks to sent letters of a short sale to the credit bureaus is one way to differentiate, but this may not be a quick process by any means. I read in Miami Times that there is a form letter circulating so that banks can certify the short sales of borrowers, and it's shocking to me that this is just now happening, but at least it's something. My best recommendation would be not to go into a short sale assuming you'll be in the clear in two years. Do absolutely everything in your power to make sure the sale is clearly marked on your credit report, including petitioning banks, credit bureaus, and even lenders who may potentially deny you a loan. Then, just make sure the rest of your bills are paid on time, in full, and work on eradicating debt to make your credit solid for when this mark finally does fall off."
In the above-mentioned Miami Times article, it states that experts in the loan and credit field call the oversight "one of the biggest challenged for today's short sellers." Florida director of the National Credit Federation, Joe Gendelman, is quoted as saying, "They're very frustrated and sad and disillusioned by the whole thing. Some of them were counting down the days [until they could buy a new home.] They feel like they're getting kicked in the teeth again."
About RoadFish.com:
RoadFish.com is a popular online men's lifestyle and finance magazine designed for men in their 30's and 40's who have attained a moderate level of success and are searching for new ways to excel. RoadFish.com writes about topics of interest to men of that demographic including hot chicks, men's luxury items, restaurant reviews, and hip dating service. RoadFish.com also writes financial articles giving consumers information on everything from keeping a budget, to how foreclosures can affect credit . RoadFish.com is owned and operated by Purpose, Inc.