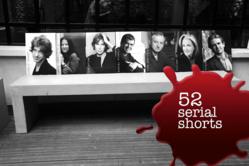 Truly fun; dark humor guaranteed.
New York, New York (PRWEB) February 27, 2013
Le French Book is launching a 99-cent e-book collection with short stories from seven of France's best writers—Tatiana de Rosnay, Didier Van Cauwelaert, Yann Queffélec, Daniel Picouly, Christine Orban, Irène Frain, and Harold Cobert. These top authors got together to play a collaborative writing game called "cadavres exquis" ("delicious corpses"), in which one started a story and passed it on until all the authors had contributed. The resulting seven-author stories are sometimes strange, always very clever, and a real study in writing skill.
Each 99-cent e-book contains four stories, and the first two volumes in the 52 Serial Shorts collection are now available.
Tatiana de Rosnay says this writing experience left her a "marvelous memory." Didier Van Cauwelaert describes it as a "sweet nightmare." Harold Cobert uses the word "jubilation." Christine Orban compares it "playful dancing."
Le French Book has set out to bring France's best entertaining novels and short stories to new readers across the English-speaking world. For the publisher and translator, Anne Trager, this collection of short stories is "a hilarious peek into the minds of some very fine writers, and a truly interesting translation experience."
Tatiana de Rosnay, who writes in English as well as French, also says that she is "very impressed" by the translation, which "is really excellent and completely sticks to our texts."
A brief encounter with three of the others: Murder in a Cellar with Wine and Sushi.
Readers can still sign up to get the short stories online free by email daily or weekly.
The e-books
52 Serial Shorts
by Harold Cobert, Irène Frain, Christine Orban, Daniel Picouly, Yann Queffélec, Tatiana de Rosnay and Didier Van Cauwelaert; translated by Anne Trager—published by Le French Book—First published in French (52 cadavres exquis) by Play Bac—Direct-to-digital translation. Available through all major e-book retailers.
Volume 1 – ISBNs: 978-1-939474-91-9 (epub) / 978-1-939474-90-2 (Kindle)
Stories: A Cursed Week, Greener in China, Slice of a Cougar's Life, Ground-Traffic Controller
Volume 2 – ISBNs: 978-1-939474-93-3 (epub) / 978-1-939474-92-6 (Kindle)
Stories: A Couch for Seven, Room 602, Saint Valentine Is No Saint, God Save the Trees
The authors
The writers are an unlikely combination of seven French literary giants, including two Goncourt prize winners and one of France's most-read authors, who have written among them upwards of 175 acclaimed works of literature.

Tatiana de Rosnay is a household word in both France and the United States, who ranks as one of France's top ten novelists and one of the most-read French authors. Her Sarah's Key sold two million copies in English and three million in French.
Didier Van Cauwelaert is a French author of Belgian descent, who won the prestigious Prix Goncourt in 1994 for One Way. His books are translated into over twenty languages.
Yann Queffélec also won the Prix Goncourt, in 1985 for The Wedding, which is one of thirty-two novels and essays he has written.
Daniel Picouly, writer and television personality, wrote his first novel with the help of Daniel Pennac, and now has fourteen novels and nearly forty other works to his name, including children's books and comics.
Christine Orban is a bestselling French novelist best known for her explorations of love, desire and female psychology, with over twenty years of writing behind her.
Irène Frain, novelist, historian and journalist, is a major figure in French literary circles who began her career as a professor at the Sorbonne. She has over thirty books to her name.
Harold Cobert is the youngest of the crowd. He has written six major tomes about the French revolutionary Mirabeau, and three novels, one of which one the Prix du Style, for literary style.
About Le French Book
Le French Book (http://www.lefrenchbook.com) is a New York-based digital-first publisher specialized in great reads from France. Founder Anne Trager says, "There is a very vibrant, creative culture in France, and the recent explosion in e-reader ownership provides a perfect medium to introduce readers to some of these fantastic French authors." The company's motto is, "If we love it, we translate it."
©2012 Le French Book, Inc. All rights reserved. Information is subject to change without notice.