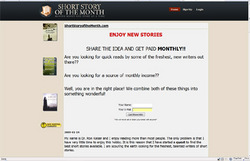 Short Story of the Month, put simply, offers a monthly ezine, a forum, and a private members blog.
Del Rio, Texas (PRWEB) January 21, 2009
Short Story of the Month is proud to announce version 2.0 for it's current members and is now open to new members as well. For those not familiar, Short Story of the Month offers an exciting new approach for story lovers, new authors and Internet marketers alike. A mix not found on or offline. SSOTM is the brain child and an extreme labor of love, created by Dr. Ron Kaiser.
Dr. Kaiser, an Optometrist and Entrepreneur from South Texas, is a devoted reader literally revolutionizing the short story ezine with the this development.
What is SSOTM?
According to Dr. Kaiser, "Short Story of the Month, put simply, offers a monthly ezine, a forum, and a private members blog."
For a small monthly fee, each new member not only gains access to the exclusive "back end" but also receives an exciting monthly ezine containing three fresh new stories from up and coming authors.
How can members monetize SSOTM?
New authors can receive an excellent stipend should their story be selected as one of the THREE new stories in each monthly ezine. Select authors will receive payment of $100 upon publication, and there is no limit to how many times your stories may be submitted or accepted.
Short Story of the Month also offers it's members the ability to market the program to other story lovers. Providing each paid member with an affiliate link leading directly to their own version of the main page of the website. Each time a new member signs up using the affiliate link, a commission is paid directly into that users Paypal account, instantly.
Easy, painless, and wait free. An affiliate concept found nowhere else!
Version 2.0 of SSOTM offers far too many features to be listed here. To obtain the full experience the site now offers, please visit ShortStoryoftheMonth.com.
###