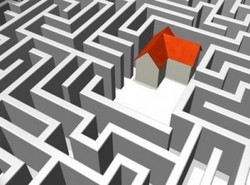 For a surprising number of borrowers, the numbers say……. GO!!
Salt Lake City, UT (PRWEB) September 27, 2010
"Should I stay, or should I go now?"
Like the lyrics from the '80's punk-rock band The Clash, many home-owners are faced with the difficult decision to stay in a home where they now owe substantially more than the home is worth or to move on. 79% of American homeowners may now find themselves in this situation. A staggering statistic.
The decision to stay or go is a complicated one. These complicating factors include: family, neighbors, friends, schools, bankruptcy, credit rating scores, and an individualized list that is specific to every homeowner. Complications, however, do not need to include ambiguity as to the financial ramifications of the decision.
Many upside down homeowners are electing to stay in their homes because they believe that the market will soon recover, or that the market will soon make up for the losses that they have suffered.
The financial question is: How long are you willing to stay with a property and wait for it to recover? Or, will I ever recover my continuing investment? For many, continuing to pay into an over-priced mortgage, on an over mortgaged home, is an exercise futility: throwing good money after bad. Instead of staying with the home, should the homeowner consider a short sale, loan modification, or foreclosure? But how can you know?
Fortunately, there is now a tool that can help bring cold-hard numbers to bear on this emotional decision.
MyShortSaleCalculator.com offers a free tool that, with a little input, can reduce an incomprehensible jumble of numbers and facts into one simple number: the number of months until your home's value once again equals the amount owing.
Stay or Go? For a surprising number of borrowers, the numbers say ... GO!
About the Author:
Michael T. Moss is the Managing Member of American Property Law, PC a firm that specializes in loss mitigation for distressed property-owners. Mr. Moss is a graduate of Brigham Young Law School, who has 25 years of professional experience representing homeowners as an advocate, and title insurance provider.
# # #