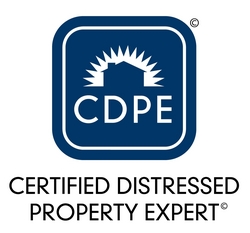 Our goal is to educate as many people as possible so we can help as many homeowners as possible
Houston, TX (PRWEB) January 1, 2009
Donald Puryear, Cindy Rahal and Jeanna Nelson of RE/MAX Metro have earned the prestigious Certified Distressed Property Expert (CDPE) designation, having completed extensive training in foreclosure avoidance and short sales. This is invaluable expertise to offer at a time when the area is ravaged by "distressed" homes in the foreclosure process.
Short sales allow the cash-strapped seller to repay the mortgage at the price that the home sells for, even though it is lower than what is owed on the property. With plummeting property values, this can save many people from foreclosure and even bankruptcy. More and more lenders are willing to consider short sales because they are much less costly than foreclosures.
An increasing number of homes at all price levels and in every neighborhood in and around Houston, Texas, are in danger of foreclosing. Local experts say that even high-priced luxury homes are not immune.
"This CDPE designation has been invaluable as I work with sellers and lenders on complicated short sales," said Puryear, who is both a REALTOR® and a licensed attorney. "It is so rewarding to be able to help sellers save their homes from foreclosure."
Puryear added, "We have also been working with buyers who are specifically interested in purchasing short sales and foreclosures. In today's market, buyers are looking for value, and short sales are priced to sell. Of course, having an agent who understands the short-sale process is critical to making the transaction proceed smoothly."
Alex Charfen, founder of the Distressed Property Institute in Boca Raton, Fla., said that REALTORS® such as Donald Puryear, Cindy Rahal, and Jeanna Nelson with the CDPE designation have valuable training in short sales that can offer the homeowner much better alternatives to foreclosure, which virtually destroys the credit rating. These experts also may better understand market conditions and can help sellers through the emotional experience, he said.
The Distressed Property Institute opened in January 2008. The CDPE is the premier designation for REALTORS® helping homeowners in distress and handling short sales.
"Our goal is to educate as many people as possible so we can help as many homeowners as possible," Charfen said.
For more information about whether your home would be eligible for a short sale, please call 713-302-6543 or visit http://www.NoPlaceLikeHouston.com.
###