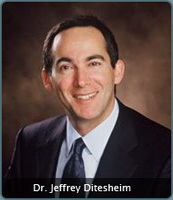 Short Scar Lollipop Breast Lift
Charlotte, NC (Vocus) August 28, 2008
Breast augmentation in Charlotte never looked better. Ditesheim Cosmetic Surgery, under the guidance of Dr. Jeffrey Ditesheim, is improving the long-term, aesthetic result of breast reshaping surgery for Charlotte women with the "Short Scar Lollipop Breast Lift". For decades, doctors have successfully used breast enhancement procedures to improve women's shapes and sizes. But, enhancement procedures left a large scar that was often visible when a sleeveless or a v-neck shirt was worn. "The possibility of eliminating this scar," says Dr. Ditesheim "motivated me to explore and master this procedure several years ago."
Officially called the Vertical Mammoplasty, the short scar technique is optimal for removing excess breast tissue—both glandular tissue as well as stretched skin. To avoid scars above the level of the nipple, the surgeon removes excess breast tissue below the nipple on both sides of each breast. "By preserving a column of tissue under the nipple, the technique narrows a very wide breast and eliminates long-term shape distortion." says Dr. Ditesheim.
Although the short scar technique is most associated with reduction it is now experiencing great success when used with breast augmentation. The short scar technique uses two incisions resembling a lollipop: one around the areola and one vertically from the areola down to the breast crease. The short scar technique eliminates the large transverse, or anchor-shaped, scar that results from traditional breast augmentations, reductions or lifts. "The large transverse scar was often problematic because of its size and location under the breasts," indicates Dr. Ditesheim. "Clothing and appearance can be very important at any age and no woman wants a visible scar," says the doctor. Without the large transverse scar, the patient has one less incision to heal and the result is more aesthetic and lasting.
Generally, breast augmentations, reductions or lifts take about two hours to complete. They can be done as an outpatient but require general anesthesia that should be administered by a board certified anesthesiologist. Breast enhancement procedures in Charlotte can be performed in partner hospitals or at the Ditesheim Cosmetic Surgery private surgical suite (accredited by AAAASF, American Association for Accreditation of Ambulatory Surgery Facilities).
The recovery period following a breast augmentation, reduction and/or lift procedure is relatively quick. Normal activities -- such as, working, driving and socializing – can be resumed within a week; while excessive use of arms should be restricted for at least 5-7 days. Wait 6-8 weeks before returning to a vigorous exercise program.
About Dr. Jeffrey Ditesheim of Ditesheim Cosmetic Surgery:
Dr. Jeffrey Ditesheim learned and trained at New York University and Harvard with some of the best surgeons in the world. In the field for more than 16 years, Dr. Ditesheim has refined many techniques and become proficient in the processes he performs. As he explains, "I measure success based on how well the patient's surgery satisfied their goals."
For more information about the breast lift, breast augmentation or other breast surgical procedures; to view the before-and-after photo gallery and see Charlotte breast augmentation video testimonials; or, to arrange a consultation, visit http://www.empowermd.com.
###