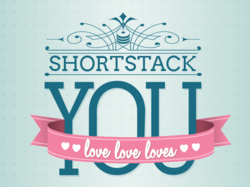 Since we have 190,000 users to thank, a social media campaign was the best way to go.
Reno, Nev (PRWEB) February 13, 2013
How do you tell 190,000 clients that you "love" them on Valentine's Day? Custom app design tool, ShortStack, took to the streets and used social media to show their love to their users.
For the special day, ShortStack has created a custom Facebook app that features a "we love you" video and downloadable paper "cube characters" that include the company's mascot, Jack and the Co-founders. In addition, ShortStack is offering two free downloadable Facebook marketing eBooks as Valentine's Day gifts to their fans.
"We get a lot of great feedback and love from our users all year long," said Jim Belosic, CEO, ShortStack. "This Valentine's Day we wanted to send some of that back to our users and let them know we appreciate them as well. Since we have 190,000 users to thank, a social media campaign was the best way to go."
ShortStack's Valentine's Day video features Belosic hugging random ShortStack users, thanking them for using the app-building platform. At first the users look worried but ultimately are happy to receive a hug from a thankful business partner.
Fans of ShortStack on Facebook can access a custom Facebook app where they can download two free eBooks including a Facebook Marketing eBook and a Holiday Idea eBook that features app building ideas for holidays such as Valentine's Day. The custom Facebook app is designed using ShortStack's Valentine's Day template which allows businesses to provide their fans with downloadable and shareable gifts from their Facebook Page.
ShortStack is the platform of choice for some of the biggest brands and celebrities on Facebook including NBC News, ZipCar, Newegg.com, Black and Decker, Pitbull, Falken Tire, Ford Racing, and Lynda.com. ShortStack offers monthly pricing plans ranging from Free to $300; the apps help businesses take their engagement and marketing efforts to new levels on Facebook and websites.
About ShortStack
ShortStack is a self-service custom app design tool with features that include contests and sweepstakes, newsletter signup forms and integrations with YouTube, Twitter, RSS and more. ShortStack apps can be installed wherever – to Facebook, websites and blogs, and they're even viewable on mobile devices. To learn more about ShortStack, visit http://www.shortstack.com.